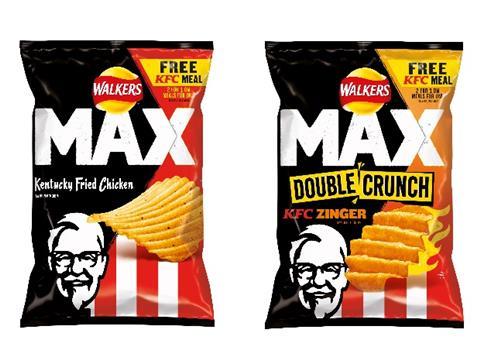 Walkers MAX and KFC are teaming up to launch two new flavours.
Available from 13 January, the variants are Walkers MAX Kentucky Fried Chicken and Walkers MAX Double Crunch Zinger. The range comes in the following pack sizes: 50g grab bags (rrp 85p); 70g and 65g price marked packs (rrp £1); 140g sharing bags (rrp £1.99) and six-packs (rrp £1.70).
Discount KFC promotion
The two new flavours are launching with a limited time on-pack promotion, giving consumers a 2 for 1 KFC Meal with every pack.
Walkers MAX Senior brand manager at PepsiCo Katherine Cook said: "Our shoppers are all-in, they want bold flavour and excellent value – and they don't want compromise. The new Walkers MAX x KFC flavours offer the ultimate fulfilling snack, delivering the epic KFC signature taste that people know and love, with the familiar and satisfying crunch of Walkers MAX."
Senior brand manager at KFC UK&I Hazell White added: "We're really excited to launch our partnership with Walkers MAX in two new flavours, Kentucky Fried Chicken and KFC Zinger. It's no secret that we hold our recipes close at KFC, and for good reason. Our chicken is the best around. It's a fact and it's all down to that famous blend of 11 herbs and spices. We wanted to give our customers more ways to enjoy our iconic Fried Chicken flavour, whilst also giving them a way to enjoy a KFC meal in the future. We can't wait for our fans to try them!"