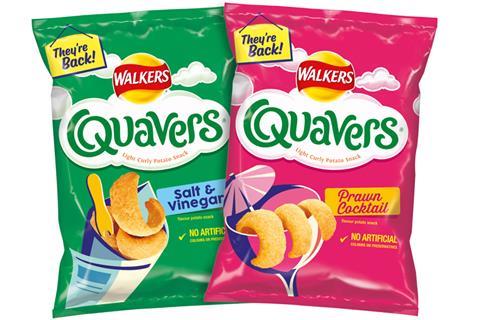 Family favourites Walkers Quavers are welcoming back prawn cocktail and salt & vinegar variants, which were originally launched in the 90s, after consumers begged for their return. Both flavours are available in singles (rrp 65p), grab bags (rrp 85p), sharing bags (rrp £1) and multipacks of six (rrp £1.50).
Walkers are supporting the launch with a multi-touchpoint marketing campaign, which runs until the end of March, including in-store shopper marketing, digital and TV.
"Consumers were crying out for us to bring them back via formal petitions and social media please," explained Will Robinson, portfolio lead for Walkers Snacks at PepsiCo.
He claimed that 95% of shoppers in the extruded savoury snacks segment bought more than one flavour each year and that 56% bought six or more (Kantar, WPO, Number of Flavours Purchased annually within Extruded Snacks Category, 2020).