The Mushroom Benefit Ltd. is rolling out a new line-up of cuisine bags, aimed at redefining the soups, stock, and sauces category.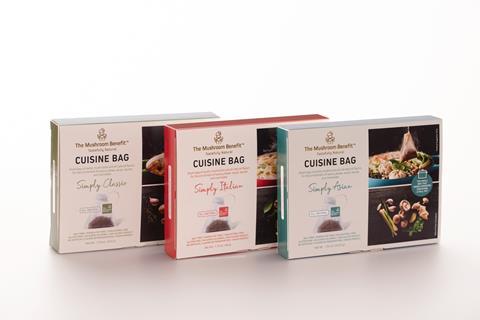 Each mesh sachet (about twice the size of a tea bag) contains a blend of exotic mushrooms and natural seasoning with flavours that can be added to savoury stews, soups, sauces or marinades.
The startup's new products will debut in New York - during the Summer Fancy Foods Show - next month and is expected to roll-out across the UK wholesale channel in the near future, including symbol groups and independents.
The mushroom-based cuisine bags offer a plant-based, clean-label alternative to traditional powdered soup stocks (rrp TBC). They can also be used as a convenient solution for flavouring dishes serving up to eight people.
Mira Weigensberg, ceo and co-founder of The Mushroom Benefit Ltd., said: "As consumers we are exposed daily to a glut of cooking TV shows, chef blogs, and restaurants, Is it any wonder that we all want to cook like chefs and receive compliments from our family and friends, as well as benefiting from all the health advantages of using natural ingredients and herbs?"
Each pack of Mushroom Benefit's cuisine bags contains five sachets and are made from 100% natural and biodegradable materials. The products are also vegan, contain zero sugar and sodium, and no added MSG or artificial colours or flavours.
Tal Leizer, ceo of Practical Innovations Ltd. (The Mushroom Benefit Ltd. partner), added: "Preparing a sophisticated and healthy meal requires effort, knowledge, and time spent pre-planning, cutting, soaking, filtering, spicing, and preparing a stock. That's too much trouble and time consuming for many of us in a life that is overly crowded with other demands. These small sachets are designed to bring the mushrooms' essence to the dining table with minimal effort and maximum indulgence."