Maryland cookies will be back on TV in February in a return of the 'What would you do for a Maryland?' ad.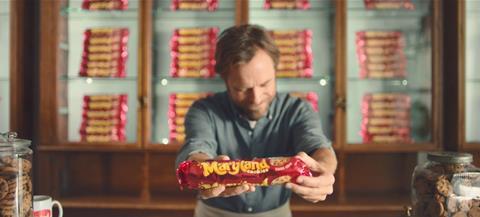 Burton's Biscuit Company is investing in social media activity alongside the TV campaign for the £46m brand (Nielsen data to 31 November 2019).
The £350k campaign breaks on 1 February, with the TV commercial premiering with ITV's The Voice during primetime Saturday night viewing, alongside other popular programmes including Take me out and Celebrity Juice.
The campaign taps into the nation's love for cookies, centred on what people would do for a Maryland cookie. In spring last year (2019), the brand put the question to the nation in a UK-wide search for an official Maryland cookie taster. The campaign reached more than 65% of the brand's core audience - women aged 16-35 - and attracted 300 applications, with wannabe cookie tasters pledging to climb Everest, walk 1,000 miles, attend a festival dressed as a Cookie Monster and more.
According to Burton's Biscuit Company, when the TV campaign aired previously brand penetration increased by 50% (Nielsen/Kantar data to May 2018) and not only drove sales for the 10g cookie championed in the commercial, but the wider portfolio including Maryland Big & Chunky lines and Maryland Mini's.
The marketing investment follows the launch of Burton's 'Under 100 Cal Club' introducing the UK's biggest range of reduced calorie biscuits, including four Maryland skus.