Tangerine Confectionery is responding to consumer demand for nostalgic sweets with a double product launch that mixes up two of its most popular retro lines.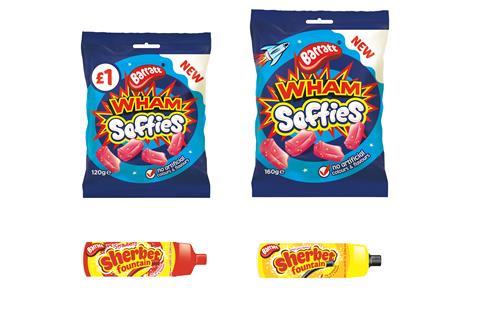 The first product: Barratt Strawberry Sherbet Fountain is a new variation on the classic liquorice flavour and consists of a strawberry flavoured dipping stick.
In addition, Tangerine has launched Barratt Wham Softies, a soft, sour twist on the retro chew bar, which includes green and yellow crystal sweets that are suitable for vegetarians and lower in sugar than leading competitors.
Russell Tanner, marketing and category director at Tangerine Confectionery, commented "Both new launches perfectly tap into the well-documented 'kidulting' trend – where adults enjoy embracing their inner-child with the sweets they remember from their youth and then creating new memories with their children.
"Our modern variations of classics offer something new for loyal consumers who have loved the brands for years, while also engaging new confectionery fans. And with strawberry currently the number one selling sweets flavour and the soaring popularity of sour confectionery – we're confident that both product launches will become best sellers within the Barratt family."
The Barratt Strawberry Sherbet Fountain (25g) is available now with an rrp of 25p or five for £1. Barratt Wham Softies (sold in packs of 120g or 160g) come in a £1 PMP variation and a plain pack format respectively.