Tangerine Confectionery has introduced cardboard packaging across its XXX Extra Strong mint range to help reduce the brand's plastic use.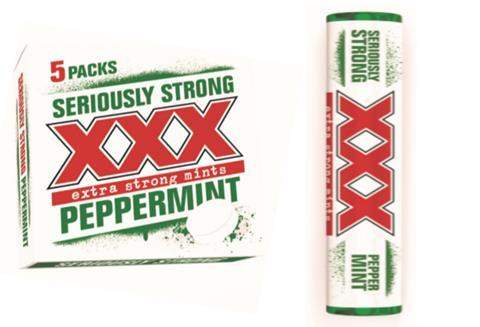 The new packs feature an updated design with a bold graffiti style to modernise the brand, and help communicate the flavour and strength of XXX Mints.
The redesign is set to appear on 40.5g single rolls and five-roll multipacks from January 2020 and all packs will be made available to retailers across the convenience channel over the coming months.
Russell Tanner, marketing and category director at Tangerine Confectionery, said "It's vitally important we find ways to reduce single-use plastic packaging and as a business, we are always looking for ways we can change our packaging to cut down on waste wherever possible in line with shelf life and food hygiene constraints'.
"This rebrand helps modernise XXX Mints and create a brand which clearly demonstrates XXX's uniquely powerful mint flavour, while providing a more ethical, plastic-free packaging solution."