South Devon Chilli Farm's elderflower chilli jelly is returning to shelves following high demand from UK consumers.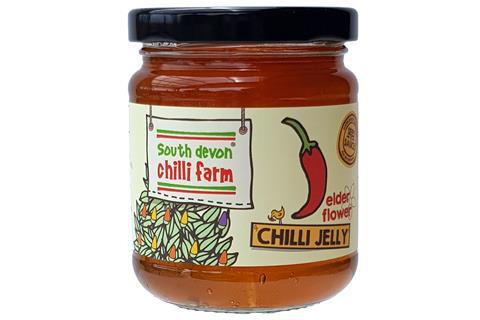 The jelly is designed to accompany a range of sweet and savoury dishes and is made with an infusion of elderflower and apple mixed with local chillies, lemon juice and sugar.
Kaz Lobendhan, trade director for South Devon Chilli Farm, said: "With the start of summer truly upon us, demand for this unique jelly has soared, so we could not resist bringing it back.
"Presented in a bigger jar with a fresh new look, we feel this will represent even better value and will become a favourite for al fresco lunches, picnics and cheeseboards. Now made with more elderflowers per jar, and a superior jelly wobble, it's better than ever."
The jelly is suitable for vegetarians, vegans and those with a gluten intolerance. The product is also made with no artificial ingredients.
Available in 250g glass jars with tamper evident lids, South Devon Chilli Farm's elderflower chilli jelly carries an rrp of £3.90 (trade price: £2.54).