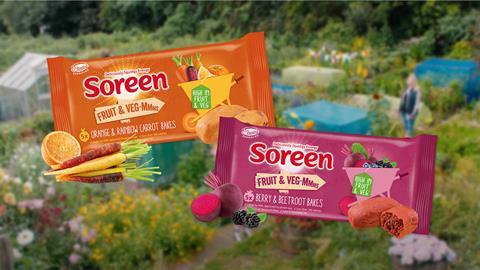 Soreen has launched new Fruit & Veg-Mmms bakes, which are high in fruit and veg and are school-compliant.
The individually wrapped bakes come in two fabulous flavours; Blackberry & Beetroot and Orange & Rainbow Carrot, both of which are vegan-friendly, and plant based.
Managing Director at Soreen Mark Simester said: "We know how hard it can be for parents to find quick and healthy snacks for their kids, especially ones that can include fruit and veg, as well as deliver on that essential taste test.
"That's why we're so excited to launch this brand new range. A range that allows parents to easily provide their children with an on-the-go snack option that is packed full of fruit and veg goodness and doesn't compromise on taste."
Head of Marketing at Soreen Liz Jacobs added: "We really wanted to help equip parents of toddlers and pre-school aged children with a snack that fulfills all their required criteria. This includes health, nutrition, convenience and taste, so we're delighted to now go to market with these bakes fulfilling all that and more.
"It was also important to us that our Fruit & Veg-Mmms were school compliant to ensure that they were a suitable snack for when at nursery or school."