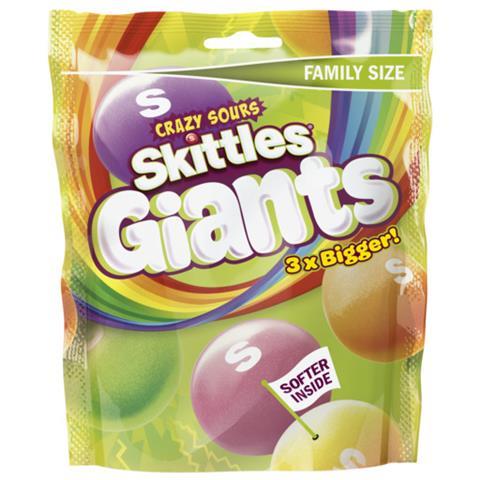 Mars Wrigley is launching Skittles Giants Crazy Sours.
Skittles Giants Crazy Sours are available in a £1 PMP treat bag (125g), a 141g value pouch and 170g grocery pouch.
Fruity confections brand director Victoria Gell said: "Our consumers have spoken and we listened. The creation of Skittles Giants Crazy Sours is a direct result of what our consumers have been communicating to us following the launch of Skittles Giants last year. We feel the Sours range satisfies shoppers' desire for variety, whilst delivering true innovation. With shoppers now being able to get together in social environments, we wanted to offer a product that people could share and enjoy during those all-important moments together.
"Skittles Giants Crazy Sours will be supported in-store with digital and traditional point of sale to maximum the impact and excitement around the launch, as well as a digital media campaign. We want to provide our customers with the sales tools they need to capitalise on the popularity of this product, especially throughout the summer when sharing occasions are prevalent."