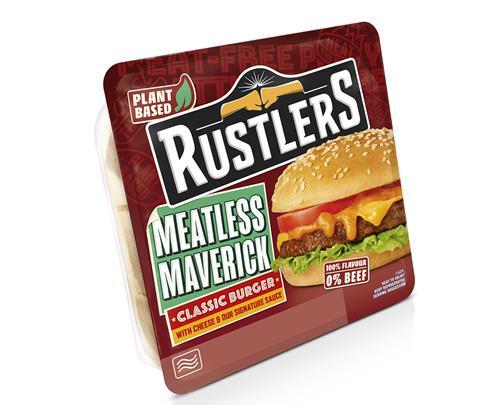 Kepak's Rustlers ready meals brand has launched a new meat mimicking burger.
Rustlers 'Meatless Maverick' is to launch in Tesco, One Stop and the Booker Group in November (RRP £2 for a case size of four).
The product is being billed as a meat-free alternative to Rustlers' bestselling SKU, the Quarter Pounder, complete with Rustlers signature sauce.
"The meat free movement has rapidly accelerated growth of the category, which is being driven by flexitarians as consumers seek more balance in their diets," said chief marketing officer of Kepak Group Adrian Lawlor. "It's important for a brand like Rustlers which has built its success on meeting clear consumer needs to recognise this trend and provide solutions to meet it. For meat reducers, 'Meatless Maverick' provides an easy swap while behaviourally fitting existing habits, therefore requiring less of a conscious shift. Put simply, as a brand with significant equity around tasty meat-based products, we have strong consumer credibility to meaningfully mimic the taste of meat"
According to MMR/Toluna Plant Based Panel Research conducted earlier this year, price and taste are the main barriers to consumers trialling the plant-based category.
"Research shows there is a perception that products within the meat free category require long cooking times with not much in the way of tasty, quick and treat options," added Lawlor. "Meatless Maverick will offer a meat free alternative to Rustlers whilst bringing the taste, convenience and quality credentials associated with the brand to the audiences we have defined - moderate meat reducers, committed meat reducers and moderate vegetarians.
"Meat mimicking products tend to carry a price premium vs the equivalent meat version, which acts as a deterrent. The Meatless Maverick burger will be available at the same accessible price point as our meat products (£2 RRP), appealing to the 52% of people who find affordability a challenge when committing to a plant-based lifestyle."