Vegan chocolate maker Raw Halo is launching a new look, recyclable, plastic-free packaging, along with additional flavours and formats for its range of plant based chocolate bars.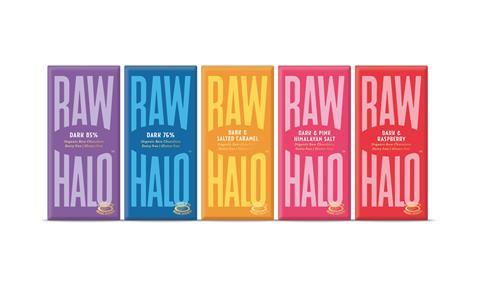 Sweetened with coconut sugar, wrapped in sustainably packaging and made with ethically-sourced plant ingredients, the range now consists of seven dark and three mylk varieties in three sizes: 22g, 35g and 70g single bars (rrp £1, £1.99 and £2.99 respectively).
The products, made with Peruvian cacao, are organic, gluten-free, 100% natural and made without artificial sweeteners or flavourings. The new look Raw Halo range includes the following variants:
Dark 85%
Dark 76%
Dark 76% with Himalayan salt
Dark 76% with caramel and Himalayan salt
Dark & Raspberry
Dark 76% with raspberry extract and freeze dried raspberry pieces
Dark & Orange
Dark 76% with orange extract
Dark & Mint
Dark 76% with mint extract
Mylk & Vanilla
Mylk with raw cacao, coconut sugar and vanilla
Mylk & Salted Caramel
Mylk with caramel and Himalayan salt
Mylk with Himalayan Salt
Founder Meg Haggar commented: "At Raw Halo, we believe in everyday luxuries that benefit mind, body and spirit. That's why our chocolate is designed to be better in every sense, for you and the planet. We've created a luxury chocolate bar that's healthier, more natural and better quality, making better-made and better-for-you the new benchmark for premium chocolate."
The updated Raw Halo line-up is available to convenience stores and independents through the following wholesalers: Marigold; Diverse Fine Food; The Health Store; Tree of Life; Crème D'or; and Cress Co.