Plamil, the first certified UK producer of organic and vegan chocolate, is introducing a range of plant-based cocoabites jars into the convenience sector.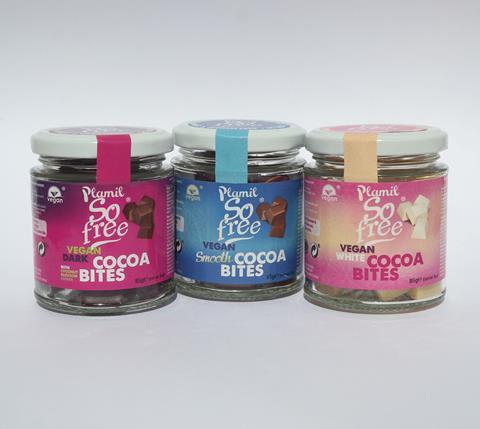 The new bite-sized products are produced using 100% renewable energy and sold in plastic-free, glass jars designed to be refilled or reused.
The cocoabites range consists of three variants - all made with no milk, wheat or gluten and without nuts or peanuts:
Vegan white choc cocoabites - chunks of white cocoa with a smooth rounded finish
Vegan milky cocoabites - marketed as the next generation of vegan milk chocolate
Vegan dark choc cocoabites - bites made with a 67% cocoa content and sweetned with unrefined coconut blossom sugar.
Adrian Ling, managing director for Plamil, commented: "We are excited to be launching these innovative cocoabites and at the same time continuing to pursue one of our key philosophies of green production.
"The three cocoabite jars not only deliver fantastic flavour but they represent a new chapter in how people can have a more sustainable enjoyment of chocolate."
Available to convenience stores next month, each jar in the Plamil's cocoabites range carries an rrp of £2.50.