The energy drink market is changing amid the Covid-19 pandemic and shifting attitudes to health, Britvic argues. Energy benefits are increasingly a factor in consumer's soft drink choices, growing at a faster rate than any other buying motivation1.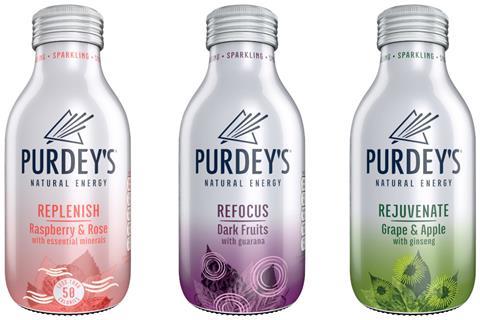 At the same time, health and wellbeing are playing more of a role in consumers' shopping choices. A huge 70% of consumers say that they are prepared to make short term sacrifices for their long-term health2.
The new normal of the pandemic has led consumers to adopt different food, drink and exercise habits. The average spend on functional wellness drinks is now more than twice the average price per litre spent on soft drinks3.
Such beverages will be particularly important in the convenience channel as lockdown restrictions lift and consumers increasingly seek on-the-go drinks to manage their daily energy levels or relax.
The functional wellness opportunity
Functional wellness drinks are worth £240.2m4, totalling 2.7% of the soft drinks market5. Shoppers are willing to pay more than double the average price of a normal soft drink for a functional one6.
The convenience channel before the pandemic made up over a quarter of the functional wellness drinks trade. This has now fallen back to 16.2%, highlighting clear headroom within the channel to grow and capture its fair share of the emerging segment – an opportunity totalling £27.2m7.
Convenience stores are currently only converting 10% of those looking for take-home options8 and 26% of those seeking on-the-go products within the functional wellness segment9. This is despite a demand from shoppers wanting premium drinks with added benefits10.
A growing desire to look and feel good is driving demand for more natural and functional wellness food and drinks. An additional one in five people have begun to take vitamins since the start of the first lockdown, while 47% agree they will eat more foods to support their immune system11.
This trend has also been visible in the soft drinks category, with 31% of shoppers now interested in premium soft drinks that contain additional functional benefits12. More people are looking for attributes beyond those provided by their standard diets, such as boosting energy levels, maintaining a healthy heart, and strengthening brain function13.
The Purdey's range
Purdey's broad appeal perfectly places it to lead in functional wellness drinks. The brand's ambition is to make wellness drinks accessible to more people by aligning with current consumer trends and providing great taste.
The brand delivers the important factors customers look for in functional soft drinks: clear benefits, great taste and more natural ingredients. Purdey's has had a successful past four years, seeing growth of about 70%14 and adding over £3.5m to the soft drinks category15.
The brand is expecting to continue this growth in 2021, with the introduction of two new flavours for those seeking energy but looking for a more 'natural' lift.
Refocus is a blend of dark fruits, naturally caffeinated and containing guarana and B vitamins, inspired by people wanting to stay sharp.
Replenish is a lighter refreshing blend of sparkling raspberry juices with rose extract. It is under 50 calories per bottle, and enriched with B vitamins and magnesium to help to restore natural balance.
Both will offer shoppers a wider range of benefits to meet the different energy needs throughout the day. The brand is also being redesigned to emphasise the functional benefits, increasing stand-out on shelf and making wellness more accessible for consumers.
Merchandising advice
Retailers can tap into the surging popularity of wellness products by stocking well-known brands which clearly communicate their benefits. This makes it easier for consumers to understand the product.
However, products in this segment which include natural energy offers should be sited away from other energy drinks. The target market of 'hard rejecters' are put off by stimulants and seek a healthier, more natural alternative in the form of a functional wellness drink. These consumers avoid traditional energy products because of perceived taste, health and brand positioning.
With more new health products emerging, the wellness aisle is becoming harder for consumers to navigate. According to research conducted prior to the pandemic, nearly half of consumers agree that the wide range of new products makes shopping for health foods confusing16.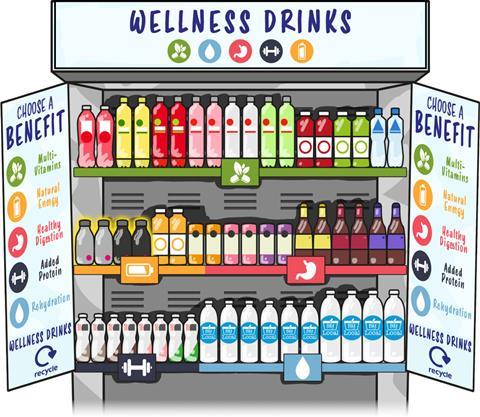 This has worsened during the pandemic, as shoppers are less inclined to browse, so visibility and clear signage are key. As such, consumers would like wellness products merchandised together17.
Retailers should create a distinct space in store for functional wellness products that call out clear additional benefits. Spearheading health and wellness across different categories with healthy deals can make stores stand out.
Bringing these SKUs together in a fixture will aid visibility and awareness: even creating a mini wellness zone in store would be beneficial. It is best for drinks to be grouped together by claimed benefits18 spanning the main five needs: rehydrate, vitality, relax, gut health and body image.
Purdey's is the beacon for the functional wellness segment and is available to convenience retailers in different formats to suit the store and customers' needs. These include the iconic glass bottle and cans, which play a huge role in on-the-go purchases in this market at a lower entry price.
If space allows, stock a minimum of two facings per flavour. The Purdey's range rankings are:
Purdey's Rejuvenate
Purdey's Refocus
Purdey's Replenish
Sources:
1 Kantar Usage Panel Reasons for Choosing Soft Drinks Servings % Growth 5YR CAGR to 29.11.20
2 Mintel, Wellbeing 2021: Health Undefined, November 2020
3 NielsenIQ RMS – Total Coverage – Britvic Functional Drinks "Wellness" Segmentation and Total Soft Drinks – Value and Volume data – PPL – 52we to 27.03.21 vs previous years
4, 5 NielsenIQ RMS, Total Coverage, Value, Britvic Defined Functional Wellness Drinks, 52we 27.03.21 vs. Yr. Ago
6 NielsenIQ RMS Total Coverage Britvic Defined Wellness Drinks £/l vs Soft Drinks average £/l, 52we to 27.03.21
7 NielsenIQ RMS, Total Impulse, Value Share of Soft Drinks vs. Functional Wellness – opportunity calculated based on functional wellness matching fair share of soft drinks, 52we 4.1.19 vs. Yr. Ago
8 Kantar Worldpanel Take Home, Total Convenience vs. Total Stores, Britvic Defined Wellness Drinks, Conversion %, 52 w/e 21 Feb 21 (Convenience = 10% of take home shoppers converted into wellness drinks versus 30% average soft drinks)
9 Kantar Worldpanel, OOH Panel, Total Convenience vs. Total Stores, Britvic Defined Wellness Drinks, Conversion %, 52 w/e 21 Feb 21 (Convenience = 26% of on the go shoppers converted into wellness drinks versus 52% average soft drinks)
10 Mintel - Attitudes towards Premium Soft Drinks: Inc Impact of COVID-19 - UK - April 2020 (Penetration = 16.6%, 37% interested in premium soft drinks with functional benefits)
11 IGD ShopperVista, Has COVID Kick-Started new health trends? 10.09.2020
12 Mintel - Attitudes towards Premium Soft Drinks: Inc Impact of COVID-19 - UK - April 2020
13 IGD ShopperVista – Health Shopper Priorities and Changing Attitudes to Health – July 2019
14 NielsenIQ RMS Total Coverage, Value Growth Actual, 52we to 19.12.20 vs 24.12.2016 (T. Purdey's 67.7%)
15 Kantar Worldpanel, Total Take Home Soft Drinks, 52w data to 27.12.2020
16 Mintel Health Food Retailing UK March 2020
17, 18 Touchstone Shopper Decision Hierarchy Research 2019 Qualitative Statements in addition to Quantitative Substitution Analysis