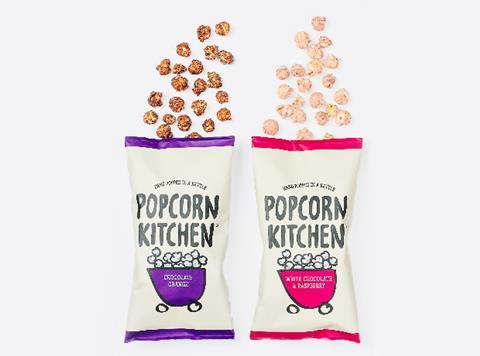 Popcorn Kitchen has enhanced its portfolio with four sweet indulgent flavours: Lemon Drizzle, Choc Orange, Choc Mint, Raspberry White Choc, available in 30g (rrp £1.39) and 100g (rrp £2.99) bags. The firm is also launching a savoury Cheddar Cheese flavour made with 30% cheese powder, which comes in a 20g bag (rrp £1.39).
Co-owner, Louise Webb said: "We have been wanting to extend our reach into bold Vs overtly finicky flavours which exude British provenance for some while, on the non-negotiable proviso that our new, head-turning flavours meant no relaxing of first principles: namely no synthetic shortcuts, a truly satisfying crunch and all-engulfing flavours. Fortunately, our unflinching commitment to superior, full-bodied mushroom popcorn (Vs fragile butterfly corn) ensures the perfect flavour rendering surface, less bottom-of-the-bag popcorn shrapnel and a truly crunchy (never soft & soggy) texture."
She claims that there has never been greater demand for artisanal style snacking where well deserved 'comfort food' splurges don't unpick wider 'healthier living' aspirations.
Co-owner Andy Valentine said: "Mainstream retailers are simply not Popcorn Kitchen's bag because our agile mindset and high-speed response turnarounds means we've always been more about products with an authentic point-of-difference, wow factor and seasonal specials."
Popcorn Kitchen products contain no artificial flavouring, colouring or sweeteners and are suitable for vegetarians and coeliacs.