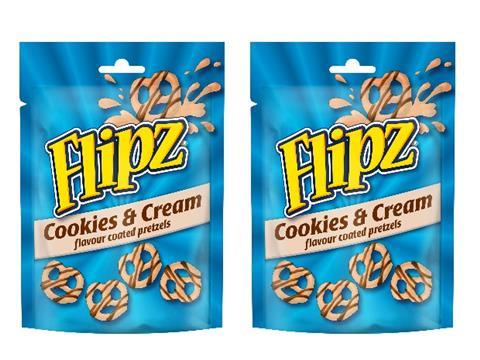 Pladis has unveiled a new variant for its Flipz brand – Flipz Cookies & Cream.
Flipz Cookies & Cream is available now in a 90g pack format at an RRP of £1.50.
Pladis UK&I marketing director – chocolate, cake seasonal at Jonathan Bull explained the new launch. "We want to maintain strong momentum for the Flipz brand, and adding tasty, trend-led flavour combinations to our core line-up will help the brand appeal to even more shoppers.
"Considering 51% of shoppers report they are on the lookout for new snacks to try, a continuous flow of NPD into the Everyday Treats category is vital. What's more, making innovation the heartland of the Flipz brand means we'll help retailers drive incremental sales by encouraging new shoppers – especially younger consumers – to buy in."
"Cookies & Cream felt like the natural fit for the latest Flipz variant, as this flavour phenomenon shares the brand's American roots and has become a classic combination both in the US and worldwide."