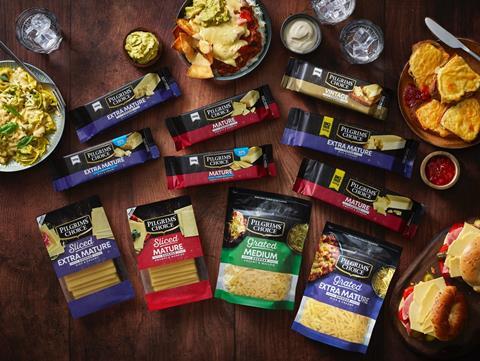 Pilgrims Choice is to introduce a new branded pack design across its entire range of block, sliced and grated cheeses.
The new-look Pilgrims Choice packs will appear nationwide from mid-June and are a first step in a new strategy to grow the brand's market share through responding to changing market dynamics and consumer behaviour. The packs will feature greater use of colour, flavour descriptors and cheese imagery to: deliver prominent standout at point of purchase; enable easier navigation of variants and; increase appetite appeal. In doing so, the brand aims to create an instantaneous visual feast in the cheese aisle, prompting 'love at first sight' among consumers, complementing its reputation in delivering 'love at first bite.'
Complementing the new packs will be a major multi-channel marketing campaign that will go live from mid-July. This will focus on engaging with the passion, love and enjoyment of consumers when it comes to eating cheese and communicating that, in buying Pilgrims Choice, the consumer isn't compromising on taste, flavour or quality – they're striving for them.
Kerry Alexander, Brands Director at Ornua Foods UK, said: "Our striking new pack designs are the first step in a multi-layered strategy to build the Pilgrims Choice market share by challenging market conventions and responding to changing consumer behaviour. At the heart of this is our focus on tapping into the real emotions that consumers experience when eating cheese and owning the key driver, when they come to select what to buy, namely great taste."