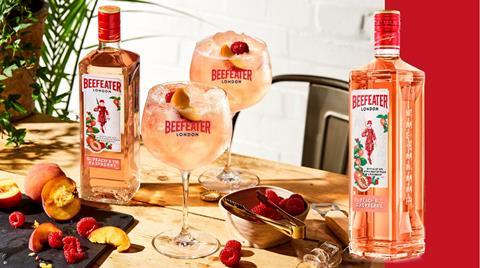 Beefeater is introducing a new Peach & Raspberry variant to its range.
Beefeater Peach & Raspberry will be available exclusively in Asda for four weeks from 25 March 2021, before being rolled out across the off-trade. 37.5% ABV, 70cl, RRP £18.99.
The new flavoured gin will launch in the brand's new packaging which boasts a new bottle shape, modelled on the iconic London brick, and uses a 100% recyclable glass bottle, the existing plastic cap has been replaced with a premium embossed, aluminium cap and a label that has moved from plastic to paper for a crafted, elegant feel. These reductions have allowed the brand to create an annual saving of 410 tonnes of plastic (equivalent to 17 million standard plastic water bottles).
Pernod Ricard UK off-trade channel director Chris Shead said: "Flavoured Gin represents a huge opportunity as it makes up 40% of Premium Gin in the UK and is growing +21.6%. Beefeater Blood Orange (+59.3%) and Beefeater Pink Strawberry (+6.1%) are performing exceptionally well since launch. Introducing new and exciting flavours is not only a fantastic recruitment tool for the category, but also a great way to tap into different occasions and consumer taste profile needs."
Beefeater master distiller Desmond Payne added: "We love to experiment and James Burrough's historic recipes provide us with a wealth of inspiration we are lucky to have. Adding just a hint of peach and raspberry to Beefeater's classic recipe, produced in our iconic London copper stills, has created another approachable flavour with a twist that's both light and fresh, perfect for the warmer months ahead. The new Flavoured Gin is clearly part of the award-winning Beefeater family, whilst there is a prominent fruit aroma the overall taste is discernibly still that of classic juniper."