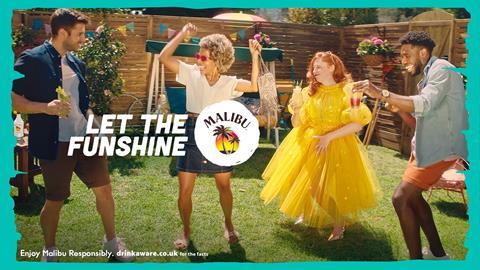 Pernod Ricard has launched a new global media campaign for Malibu.
Celebrating the in real-life awkwardness that's surfaced as the world starts to open up again, the campaign encourages everyone to embrace the sunshine and the joy of being back together, whatever happens.
The campaign and runs until the end of August across YouTube, Instagram, Facebook, Snapchat and digital display. Malibu is also collaborating with global singer-songwriter Anne-Marie, actor Michael Dapaah, and nine UK influencers, who will be releasing their inner 'Funshine' all summer long and inviting their followers to join them.
Marnie Corrigan brand director at Pernod Ricard UK said: "After a year of virtual hangouts, summer is finally here and the Malibu 'Let The Funshine' campaign is our way of helping everyone make the most of time spent with friends and family. We have always celebrated that live-in-the-moment, take-life-by-the-coconuts mindset that leads to the best times together, and we want everyone to join us by releasing their inner Funshine!"