Comprising three individually wrapped chocolate pieces, each with an aerated centre and cocoa pieces, the new line (rrp 85p) follows the launch of a carton format earlier this year.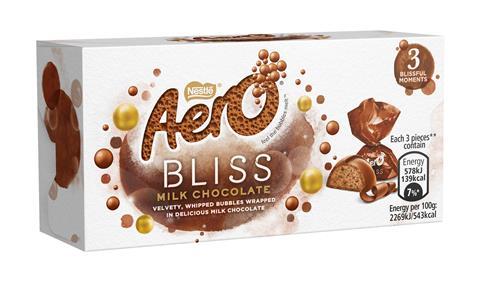 Aero Bliss is currently being supported with a wide-reaching media campaign, including out of home, social and digital advertising, as well as sampling and experiential activity. The Aero brand in total will benefit from £3m media across 2019.
The product is the latest innovation in Nestlé confectionery and has been invented in response to a growing trend for people looking for light textured yet indulgent premium products.
Ellie Tyler, Aero brand manager at Nestlé UK, said: "Our Aero Bliss Milk Chocolate single variant offers a lighter textured form of indulgence in comparison to other premium chocolate bars on the market.
"People love the melt in the mouth sensation that Aero brings and we are sure that our new indulgent product, in a beautiful box containing three individually wrapped sweets, will be a huge hit amongst those who are looking for a light but indulgent treat."