This weekend (June 15 - 16), chocolate fans will have an opportunity to take part in Nestlé's new campaign to celebrate its recently launched premium confectionery brand Aero Bliss.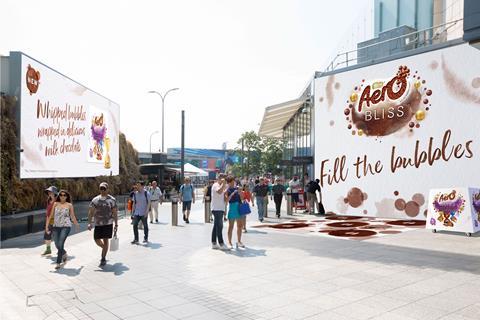 Taking place in Westfield London in Shepherds Bush this Saturday and Sunday between 12 - 6pm, the campaign will include interactive consumer sampling via pressurised flooring and an automated dispenser unit shaped like an oversized Aero Bliss box.
Every time a passer-by steps on one of five pressure pads in the flooring, the screen creative dynamically changes message. Once there are five people participating, actual bubbles are released and the Aero Bliss soundtrack begins to play. The dispenser lid then opens to reveal an Aero Bliss Mixed Selection for the participants to share and enjoy.
Amy Kendall, assistant brand manager for Aero at Nestlé UK said: "Our idea is simple. To create and capture sharing moments of joy by celebrating the magic of bubbly Aero moments. We hope people will enjoy this fun interactive activity and will love our new Aero Bliss chocolates as much as we do".
Videos captured during the weekend activation will be used in a supporting social media campaign; alongside paid social, digital and out of home advertising activities.