Nestlé Confectionery has introduced two on-trend flavours to its Munchies sharing range.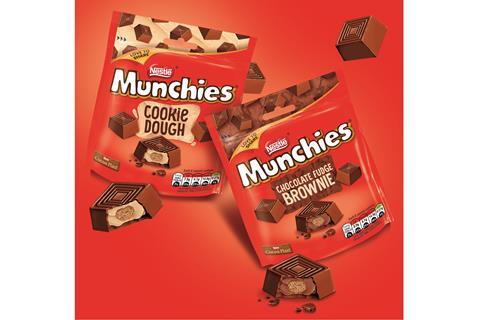 Sold in 101g bags (rrp £1.59), Munchies Chocolate Fudge Brownie and Munchies Cookie Dough are the first new Munchies products to launch in the UK and Ireland since 1996.
Commenting on the NPD, Munchies brand manager Cat Mews said: "We are thrilled to bring these two tasty new flavours to our Munchies family. Our teams in York and Fawdon have worked tirelessly over the last six months to bring these new flavours to our loyal Munchies fans. It's a real delight to see (and taste) the results of our hard work, reaction so far has been amazing and we can't wait to see what's next for Munchies."
Nestle research conducted this year revealed that Chocolate Fudge Brownie and Cookie Dough were the most popular flavours for a new variant of Munchies (Consumer poll during six months development period).
Both Munchies variants are available for convenience retailers to stock now through Booker Wholesale.