Nestlé is introducing Aero Bliss, a new premium boxed chocolate version of Aero which is available to retailers now in two variants.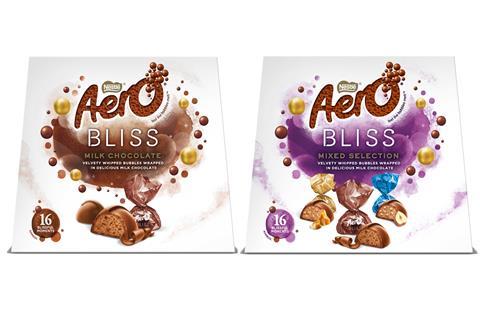 Stores can choose to stock the standard milk chocolate version and a mixed selection which includes milk chocolate, salted caramel and praline flavours.
Aero Bliss chocolates are individually wrapped and filled with a cocoa, salted caramel or praline aerated centre with the addition of a crisp topping. Both boxes have an rrp of £3.99 each.
The introduction of Nestle's latest sharing launch will be supported with a media campaign, including out of home, social and digital advertising as well as sampling and experiential activity. The Aero brand in total will benefit from £3m of media investment throughout 2019.
Ellie Tyler, Aero brand manager at Nestlé UK, said: "We know our consumers want something special and we are very excited about this new addition to the much-loved Aero brand. Aero Bliss is perfect for sharing between friends and family and offers a light and bubbly form of indulgence in comparison to other premium chocolate products. People love the melt in the mouth sensation that Aero brings and we are sure that this new indulgent product will be a huge hit."