Mr Kipling is celebrating the summer season with the return of its limited edition Roald Dahl-themed range, consumer on-pack promotion and new retailer competition.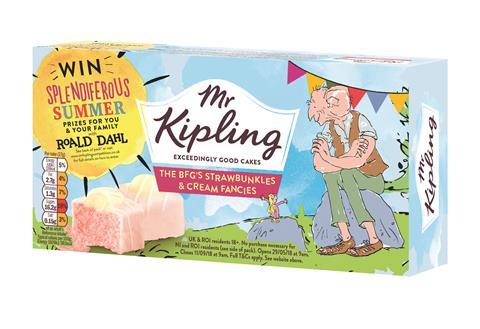 Available across the convenience channel, two new skus: Fantastic Mr Fox's Apple Mini Batts (rrp £1) and James's Chocolate & Raspberry Ladybird Slices (rrp £1), will join the range for this year alongside two of the favourites from last year's range: George's Marvellous Lemon & Raspberry Whirls (rrp £1) and The BFG's Strawbunkles & Cream Fancies (rrp £1.50).
The cakes have also undergone a packaging update to create more appeal in store during the warmer months, when the cake aisle tends to be visited less often. The 2018 Roald Dahl activity brought shoppers back to the category and brand owner Premier Foods hopes to drive sales throughout the 2019 season.
This year's summer on-pack promotion will give shoppers the chance to win thousands of prizes for the family, including Roald Dahl-inspired holidays, family days out and theatre trips.
Participants will be directed to a microsite where they can enter a code to see if they have won, and can also gain access to hints and tips on how to make the most of the school summer holidays, with crafts, games and days out for the family.
New for 2019, retailers also have the chance to win a family fun day for their local community and have the event hosted in their store. The prize will include everything needed to bring families together during the school holidays, including entertainment, games, product samples and prizes.
To be in with a chance of winning, retailers can enter in the following ways:
Send a postcard with their name and address to: Ella Farthing, Cirkle, 27 London End, Beaconsfield, HP9 2JN
More information on the competition can be found at https://www.grocerypartners.co.uk/. Entries close on Friday 2 August, with the prize being delivered before the end of the school holidays.
Steve Kelly, convenience channel director at Premier Foods, commented: "Our partnership with the Roald Dahl Story Company in 2018 was incredibly successful, driving £4m retail sales value and contributing to the category's overall growth of +1.4% over the summer period. The limited edition range also brought incremental shoppers to the brand at a time of year when sales of ambient cake tend to slow.
"This competition is giving retailers the chance to embrace the campaign further this summer, supported by two brands that highly value the importance of coming together as a family."
The 2019 Roald Dahl campaign is being supported by in-store activity that will include a wide range of digital, aisle end and additional branded display units. The limited edition range will be available from 11 June until 3 September.
Watch the video below for more information