From HFSS to ethical production, there's plenty of change afoot in the confectionery category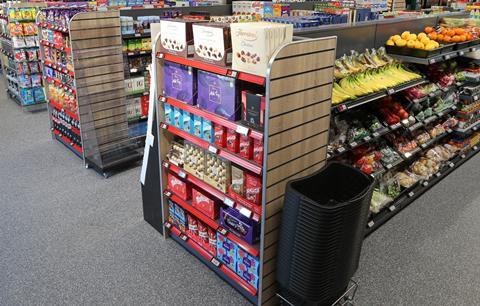 1. The HFSS regs will have a major impact on the chocolate market
While there is much confusion over which products are and aren't impacted by the HFSS (high fat, sugar & salt) regulations, chocolate will most certainly be in the firing line. Due to come into force in October, stores that fall within the scope of the regs will no longer be able to display chocolate in store entrances, at checkouts, in queueing areas or at the end of aisles. In addition, multibuys and extra free deals will no longer be permitted.
Chocolate bags are located opposite the counter at Vicky's Convenience Store and Post Office in Bromsgrove, Worcestershire, but at under 500sq ft, the store will be exempt from the new rules. "It could be a bonus," says owner Vicky Onions, noting that chocolate is a strong category. "I spend about £300 - £700 a week on chocolate," she says.
Goran Raven, who owns Raven's Budgens in Abridge, Essex, is still unsure whether his store will be impacted. "The conversation I've had with Booker is that they're still trying to get confirmation of the legislation from the government," he says.
He claims that, aside from seasonal, chocolate sales are static. "The confectionery side ticks over, but you don't think to yourself 'this is flying'," he says. "I think with the HFSS implementation, the manufacturers are sitting back and waiting before they do anything."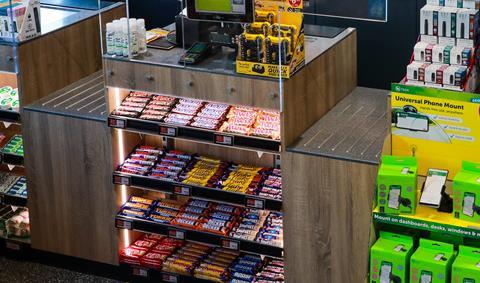 2. 43% of indies reported growth within chocolate singles in 2021
With lockdown restrictions now lifted, Mondelez claims that the impulse occasion has returned across single format confectionery, with latest MAT and 12-week data showing singles in growth (Nielsen One System w.e. 1.1.2). "In a recent survey we asked independent retailers how their singles sales changed during 2021, and 43% said they'd increased (Mondelēz International survey of 200 independent retailers, Dec 21)," says trade communications manager Susan Nash. She points out that Cadbury Twirl Orange single bar was the top-selling NPD within independents and symbols and Cadbury Caramilk single bar - which launched in July - was the 9th best-selling NPD, with four of the top 10 being singles [Nielsen One System I&S MAT w/e 30.10.2021 System I&S MAT w/e 30.10.2021].
Goran hasn't noticed any growth in countlines, but Vicky has seen an increase since restrictions lifted. "Twirl is our best-selling single bar and Mars Bar, and we sell lots of Kinder Bueno," she says. "Single bars do ok because I stock pricemarked where I can."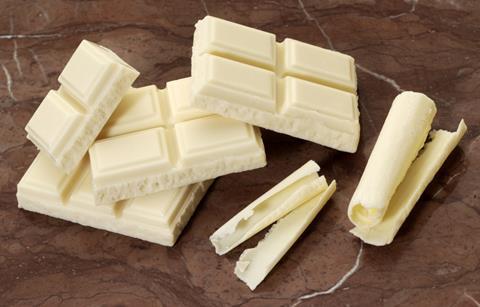 3. White Chocolate is seeing double digit growth
White chocolate is growing in popularity with consumers, according to Nestlé, which claims it is outperforming both milk and dark chocolate at a category level and growing at 16% year to date (IRI Market Advantage, Confectionery Database, 52 weeks, Value Sales, w/c 6th November 2021, IRI All Outlets). As a result the firm has launched Smarties White.
The company has also introduced a KitKat 2-finger White, in addition to KitKat 4-finger Orange.
"Nestle was very late to the party with the orange KitKat," notes Budgens retailer Goran Raven. He has not witnessed any increase in demand for white chocolate and claims that orange chocolate was popular last year, but sales have now levelled off.
However, Vicky reports strong sales of Cadbury's Twirl Orange bar, which was made a permanent addition to the Cadbury line-up last year and introduced in a pricemarked format in September.
ADVERTISEMENT
Grenade earns its confectionery shelf space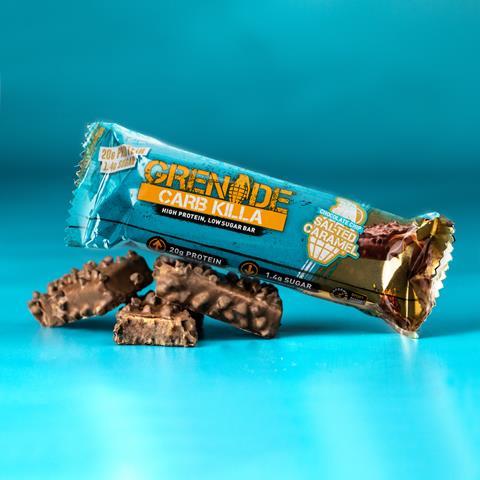 As the consumer demand for protein grows, retailers can harness this trend by stocking brands that are guaranteed to turn profits. Grenade Chocolate Chip Salted Caramel Protein bar remains the number one protein bar in the market for cash rate of sale[1], with Grenade's entire range of bars now selling four times faster than the nearest competitor in convenience[2] – earning retailers over 40% profit on return.
With consumers looking for their snacks in impulse locations, retailers who sell Grenade's range of protein bars from near their till or alongside their confectionery snacks typically see much higher sales. With a higher profit on return than many confectionery snacks, combined with the strong rate of sale through their demand, the Grenade protein range more than earns it's space on retailer's shelves.
Available in multiple flavours from all key wholesalers. Stock up today!
Free point of sale is available to support your sales, please contact POS@Grenade.com to order.
1 IRI Marketplace, Total UK Convenience Value/Store/Week, ND>5%, 12wks to 20/02/2022
2 IRI Marketplace, Total UK Convenience £Value Sales, 52wks to 20/02/2022
4. The total GB free from chocolate market is worth £43.2m
Having added £8.5m to its value in the last year, the total free from chocolate market has a value of £43.2m (Nielsen Scantrack MAT 52 w/e 01/01/22).
Kinnerton claims to be leading the market with its Nomo brand, worth over £8m in value sales, up 50.8% YOY (ibid).
Within convenience, Nomo is driving the growth of free from chocolate with YOY value growth of 111.1%. Meanwhile Mars free from has seen 44.9% growth, and Buttermilk free from has growth 18.4%, while Moo Free has declined 35.3% (Nielsen Scantrack, Total GB Coverage & Total coverage convenience, Total Free From Chocolate, 52 Weeks To 06/11/21), according to Nomo brand manager Jacqueline Tyrrell of Zertus UK.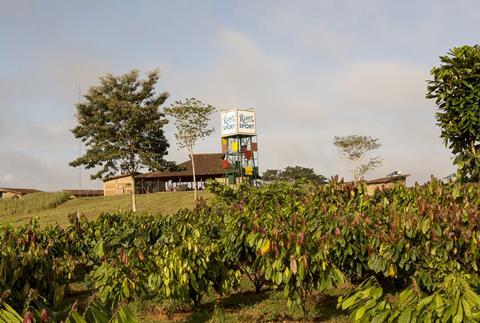 5. Ethical credentials are influencing chocolate purchasing decisions
Ritter Sports highlights sustainability as one of key trends impacting chocolate, adding that the total tablet market is flat at -0.2%, while Ritter Sport is outperforming this by 9ppts (Nielsen Scantrack, Total coverage, Block chocolate 80g+, 52 w/e, 01.01.22).
The firm uses 100% certified sustainable cocoa, and claims to go "beyond certification" to support the people behind its ingredients. "Consumers care more and more about the food they eat, how it is made, what it contains and its impact on the planet and the value chain," says Katy Clark, head of marketing at Ritter Sport UK & IRE. "This is why we are winning."
Tony's Chocolonely, which is campaigning for all chocolate to be '100% slave free', has also made an impact on consumers. The firm made its UK debut in 2019 and has seen annual value sales grow 115.6% (Nielsen Total coverage 52 w/e 11.9.21).
Consumers are becoming increasingly conscious buyers, agrees Lir Chocolates. "As part of the clean label trend this year we will see a huge focus on sustainability, not only on ingredients being used or where they are sourced from, but also product packaging," says senior brand manager Ruth Sherry.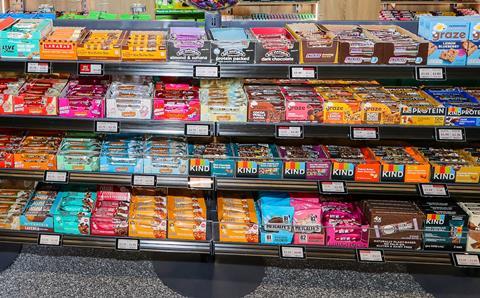 6. Protein chocolate bars are moving in on traditional chocolate territory
Low sugar, high protein credentials will continue to be a key purchase driver for broader lifestyle-centric audiences intent on improving their health, states Grenade. "Sales of Grenade's low sugar high protein bars are now 20% ahead of pre-pandemic 2019 figures illustrating continued strong growth [IRI Marketplace, Total UK Market, Value Sales, Grenade Protein Bars, 52wks to 26/12/21], with the brand growing quicker than chocolate singles [IRI Marketplace, Total UK Market, Value Growth % YA, 52wks/12wks/4wks to 23/01/2022]," says Rachel Austerberry, Head of Convenience & High Street. "Fuelled by a more health-conscious public, we expect healthier snacking to further extend its grip within 'chocolate confectionery' categories, provided brands continue to innovate with healthy products."