UK sports nutrition company Maximuscle is appealing to shoppers from the 1980s with the launch of a high-protein take on KP's choc-dip snack.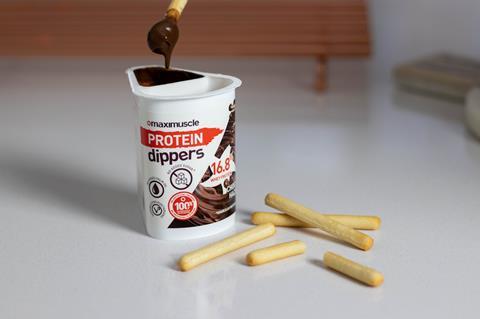 Like the original, Maximuscle's protein dippers contain short biscuit sticks and a smooth milk chocolate sauce for dipping. Each dipper tub contains 9.6g of whey protein and no added sugar, palm oil or artificial flavours / colours. They are also suitable for vegetarians.
Gareth Nicholas, nutritionist and product development manager at Maximuscle, said: "KP choc-dips were really popular in the 1980s and a great fun snack so our protein dippers will hold a lot of nostalgia for many people.
"We developed it to recognise the growing trend of people wanting to be healthier even when it comes to confectionery with high protein and low sugar key considerations."
Maximuscle's protein dippers are available for retailers to order now through Blakemore (rrp £1.50 each).