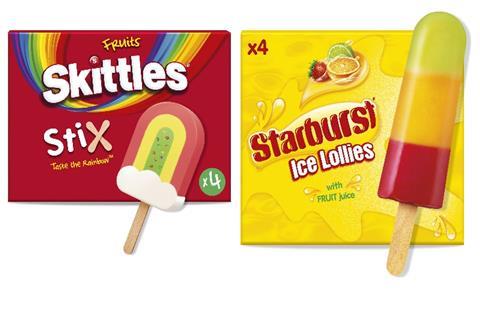 Mars Chocolate Drinks and Treats has announced two new additions to its ice cream range - Skittles Stix and Starburst Ice Lollies.
Both available from March 2022 as multipacks (rrp: £2.50) and singles (rrp: £1.40), Starburst Ice Lollies contain layers of strawberry, orange, lemon, and lime flavoured ice made with fruit juice, and boasts a unique wobbly jelly base.
Skittles Stix is a colourful frozen treat with layers of fruity flavoured ice cream and a secret sugar pearl centre.
Michelle Frost, general manager at Mars Chocolate Drinks and Treats said: "We're extremely pleased to introduce these delightful and unique ice creams for 2022, after such a great year for our handheld products. Fuelled by the popularity of Skittles Cooler, we anticipate that by adding these exciting products to the freezer, it will give ice cream fans even more choice from their favourite fruity confectionery brands!"