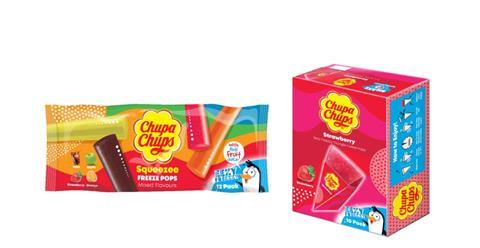 Licensed product brand developer and distributor Rose Marketing has launched a Chupa Chups Eezy Freezzy freeze pop range.
Inspired by the brand's popular flavours, Squeezee Freeze Pops come in strawberry, cola, apple and orange flavours and have an rrp of £1.25 for a pack of 12. The firm is also releasing Chupa Chups Strawberry Triangle Freeze Pops in packs of 10 (rrp £2).
Made with real fruit juice, natural flavors and no artificial colours, Chupa Chups freeze-at-home pops are also fat free, low in calories and are a responsible treat for both kids and adults, according to Rose Marketing.
Marta Ballesteros, area licensing manager of Perfetti Van Melle, says: "We are very pleased with this amazing product. These freeze pops are a natural extension that will allow our consumers to experience our brand in a new, refreshing and exciting way."
Carl Richardson head of commercial brands at Rose Marketing UK adds: "We are really excited to be working with Perfetti Van Melle on one of their amazing brands. Chupa Chups Freeze Pops are exceeding expectations already in the UK and France. More countries in Europe have already committed to stocking them next summer, so the future looks incredibly bright."