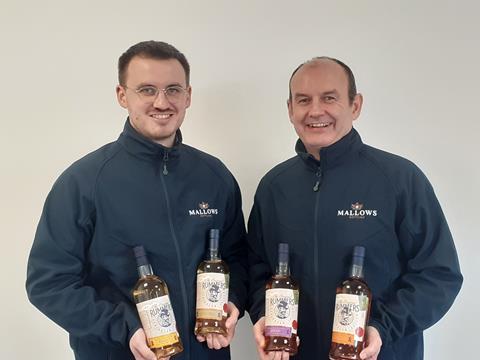 Mallows Bottling has launched a new range of flavoured rums – golden rum, banana, citrus and sea salt, pineapple, and spiced rum.
The newly created distillery is bringing its very first spirit to the market with The Rummers, available through selected wholesalers at £27.99.
The brand was developed in partnership with Dutch rum specialist, Scheer.
Commenting on the launch Andy Mallows, co-owner of Mallows Bottling, said: "The premium rum market continues to grow in the UK and internationally. Consumers are always on the hunt for new, innovative flavours, and we've developed a range that provides a rum for every palate. The rum can be drunk straight or with a mixer and provides a great base for cocktails. We've put a lifetime of experience and a passion for the spirits business into the new range."
Father and son team, Andy and Rhys (pictured) opened their purpose-built distillery and bottling plant in South Wales.
Rhys Mallows said: "We are a one-stop-shop for outsourced production as we can manage label designs, liquid creation, supply chain, production and storage, which saves our customers time and money."