This month, Livia's is introducing a new flavour of its Dunx cookies and dip: Maple Peanut Drizzle, alongside refreshed packaging for the rest of the range.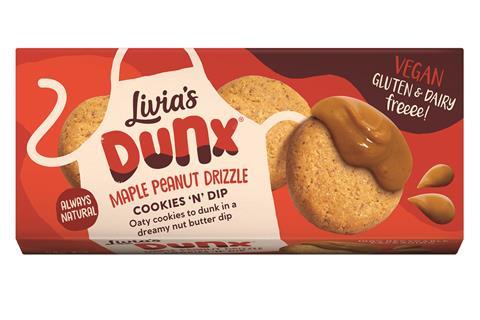 Available to independents now, the new flavour and packaging are designed to bring some added excitement to the biscuit and confectionery category.
The Maple Peanut Drizzle variant will sit alongside existing flavours: Caramel Almond Swirl; and Choco Hazel Twist (rrp £1.79 each). All products are vegan, free from gluten and dairy and made with natural ingredients.
To coincide with the launch of the new flavour, the Dunx range now sports packaging with 20% less plastic which is also made with 100% recycled plastic and is fully recyclable.
Entrepreneur and Dunx founder Olivia Wollenberg said: "We pride ourselves on bringing the most innovative products to market and are always working hard to ensure all our ranges are the very best they can be. With the new Dunx range we've really taken our consumer feedback on board and are thrilled with the results.
It's a truly exciting time at Livia's. We're the leading brand challenging the traditional image of free-from, making it fun instead of functional. We're now entering the next phase of growth and look forward to appealing to an even broader audience with our flavour first approach."