SHS Drinks is to introduce a new lemon variant to its WKD range.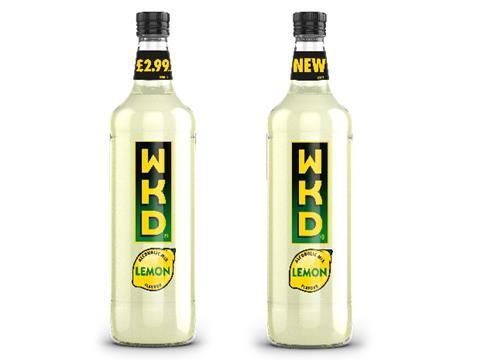 Available from July, WKD Lemon will be available in 700ml glass bottles, in both standard and price-marked pack (PMP) formats.
The new Lemon PMP variant will join other WKD 700ml PMP flavours - Blue, Dark Fruit, Pink, Iron Brew, with a rrp of £2.99.
The new variant is being launched with a selection of trade deals to incentivise distribution, prominent off-shelf display, POS kits, and a social media campaign.
The new flavour is the fourth addition to the RTD range in two years, following the launches of WKD Mango Crush (May 2018), WKD Pink (July 2019) and WKD Dark Fruit (January 2020).
The new variant is expected to build on a period which has seen brand volumes in the convenience sector increase 150% in the quarter to mid-June (Nielsen), with WKD being the biggest contributor to the overall growth of RTDs in impulse, adding £10.5m to the category in a year.
"WKD Lemon will bring an exciting citrus dimension to the range," said Nick White, head of marketing at SHS Drinks. "Lemon is a classic, ever-popular drink flavour and expanding our offering will further increase WKD's appeal to its core 18-to-24-year-old target market.