Adult soft drinks brand Shloer is hoping to meet consumer demand for drinks that serve as alcohol replacements with the launch of two new ranges.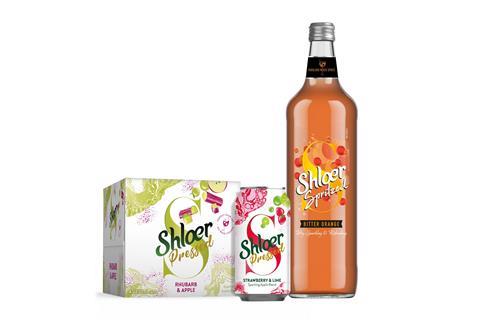 The SHS Drinks-owned brand is launching Spritzed: a bottled drinks line-up and alternative to aperitifs, and Pressed: a canned range designed to appeal to flavoured cider drinkers.
Available to c-stores from this spring, both ranges mark the first time Shloer has not used grape juice as its main drinks ingredient.
Shloer Spritzed comes in three flavours: Bitter Orange; Grapefruit & Mint; and Bitter Lemon & Lime, packaged in 700ml glass bottles with an rrp of £2.49 and in trade cases of six units.
Shloer Pressed is also available in three variants:Strawberry & Lime; Rhubarb & Apple; and Mixed Berries. Each one comes in two formats: 330ml cans (rrp £1) and four x 330ml multi-packs (rrp £3.50).
Nick White, head of soft drinks at SHS Drinks, said: "The launches of Spritzed and Pressed mark a watershed for Shloer: these are the biggest developments that the brand has ever undertaken and herald a new dawn. Shloer is all about sharing – be that sharing a drink or sharing the good times; our new ranges take that thought and expand it into additional alcohol-alternative situations.
"Our strategic review of Shloer and the expanded role that the brand can play going forwards resulted in insight-led NPD that is all about new audiences, exploring trends, leveraging the brand, and leading the adult soft drinks category from the front. Our intention is to make Shloer the drink of choice for those who want to have fun and join in, even when they are not drinking alcohol.
He added: "Now available in four different styles, sparkling Shloer looks, feels and tastes special enough to suit any occasion; with Shloer, consumers always feel part of things. The brand is well regarded as a soft drink substitute for wine; this next phase is about our new drinks expanding the brand's footprint so that Shloer is also an alternative to cider and aperitifs."