WKD is appealing to convenience retailers with its new ready-to-serve canned cocktails, available in a 440ml price-marked format.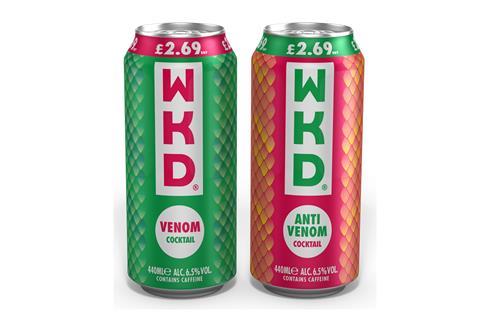 The two £2.69 PMP singles: WKD Venom and WKD Anti Venom, each feature an abv of 6.5% and take inspiration from well-known drinks sold in clubs and bars.
The new additions both contain caffeine and come in 12 x 440ml trade outers to suit smaller retailers. WKD Venom features a blend of WKD Blue, bourbon and orange flavour, while WKD Anti Venom is made using WKD Berry, peach schnapps and pineapple flavour.
Available in Bargain Booze, Parfetts, United depots (Landmark and Todays), Booker Scotland, Dhamecha and Bestway, the roll out of WKD's 440ml canned cocktails will be backed by pallet displays, trade shows and POS, as well as a consumer social media campaign.
Commenting on the launch, Karen Salters, group director at brand owner SHS Drinks, said: "This innovation is all about WKD driving growth through a convenience-based solution that reflects consumers' on-trade habits and preferences. We're embracing the on-trade cocktail trend and enhancing it for the take home consumer. Our latest new products are yet another example of WKD's long-established role as a catalyst for fun.
"We're the UK's No.1 RTD brand* and activities that grow the category, engage consumers, and build sales for convenience retailers are our priority. Buying cocktails in bars and clubs is exciting and fun; through Venom and Anti Venom, WKD is helping consumers overcome the all-important 'hard-to-replicate-at-home' hurdle."
* Source: Total RTD category combined value (£): Nielsen Scantrack Take Home MAT (18.05.19) / CGA On-trade MAT (26.01.19)