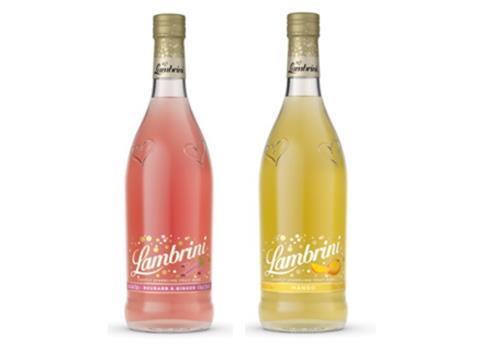 Lambrini has added two new flavours to its perry range.
Rhubarb & Ginger and Mango Lambrini have an ABV of 4% and an RRP of £2.99. They are available to order now.
The new additions aim tap into the growing demand for fruity flavours and lower ABV 'spritz' drinks.
Lambrini brand manager Kayleigh Forbes said: "Lambrini has always been a popular entry level wine of choice, and a great, affordable alternative to prosecco and fruity wines. This was particularly accentuated during lockdown (Nielsen), where we saw very strong growth for the brand as consumers looked for options to trade down, without compromising on quality and flavour.
"We had a fantastic response from customers following the return of our Strawberry and Cherry flavours earlier this year, so we don't see this trend slowing down any time soon – particularly as we head into the festive season, when fizz is always a popular choice. In order maximise this opportunity we have extended the range with Mango and Rhubarb & Ginger variants. With these flavour profiles being hugely popular across the spirits category at the moment – these new launches are sure to provide retailers with a significant sales opportunity in the run up to Christmas."