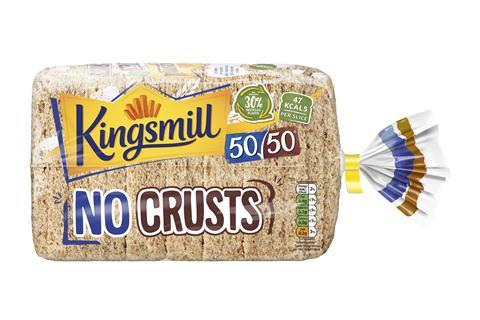 Kingsmill has announced the nationwide launch of its new bread bag to help demonstrate how a circular economy could work for soft plastics.
The new Kingsmill 50/50 No Crusts bread bag, featuring 30% advanced recycled content, is launching into supermarkets as part of a mass trial.
With over 2.5m loaves sold across this SKU each year alone, the equivalent plastic of 750,000 bags will be removed from Kingsmill's supply chain during the trial.
The bags are made using a technology called advanced recycling which upcycles used and mixed plastic to create plastic with the same purity and quality as traditional virgin material produced from fossil fuels. The recycled content comes from resin producer SABIC as part of their TRUCIRCLE portfolio and the bags were produced by packaging supplier St Johns Packaging.
Kingsmill's joint managing director Chris Craig said: "We are committed to finding solutions that tackle the plastic waste challenge. This involves everything from investing in innovative solutions like the UK's first bread bag featuring recycled content, to encouraging everyone to recycle their bread bags by returning them to larger supermarket stores.
"Around 25 million bread bags are used in the UK every week, meaning consumers potentially get through up to 1.3 billion bread bags a year. Being able to funnel these bread bags back into the circular economy would help create a more sustainable future for the bread aisle and our planet.
Alongside recycled content packaging, Kingsmill is also championing kerbside collections for bread bags and other soft plastics sooner than the 2026/27 date currently set out by local councils.
Craig added: "We want bread bags to be readily recycled as part of a consistent household kerbside collection, and then re-processed into other materials to ensure the bags remain in the recycling loop.
"This needs to happen earlier than the proposed date of 2026/27 and we are calling for all parties, from other bakery brands and our supply chains to wider industry partners and government, to work together in driving positive, lasting change.
"For now, we continue to urge everyone to take their soft plastics to their nearest recycling points at larger supermarkets. The more everyone uses this facility, the more recycled material there will be to use in packaging that uses recycled rather than virgin plastic."