Soft drinks brand KA is bringing the authentic taste of the Caribbean to the energy category with the launch of KA Reload - the brand's new glucose-based energy drink.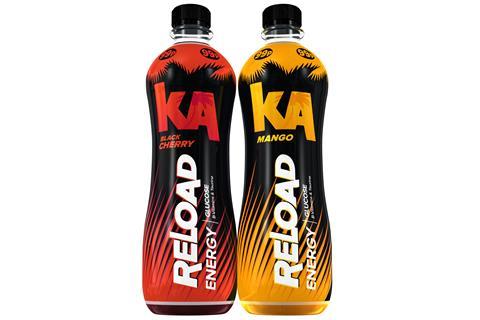 Available in two flavours – Black Cherry and Mango - the range marks the first time KA has moved into the energy market. The drinks come in 500ml PET bottles and are price-marked at 99p each.
"Energy is a hugely important category for convenience retailers, delivering the highest profit per litre, with almost one in two impulse soft drinks purchased being an energy drink (IRI Marketplace, PPL & Average Margins, MAT to 27.01.19, GB Convenience)," said Adrian Troy, marketing director at Barr Soft Drinks.
"The urban lifestyle of the KA consumer is fast paced and KA is their brand of choice to deliver a unique Caribbean flavour. Now we are building on the growing trend of flavoured energy, to bring the bold Caribbean flavour that these consumers love to the energy market."
The launch will be supported with a digital campaign across Instagram, Snapchat and Spotify, targeting KA's core target audience.