Have your sports and energy drinks sales lost their get-up-and-go? Re-energise with new flavours, healthier choices and impulse sizes.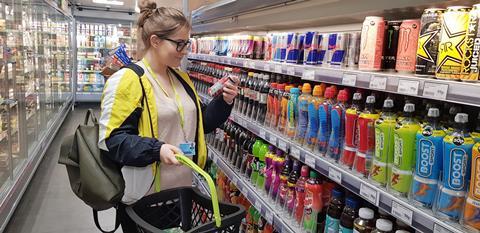 With their notoriously early starts and what can sometimes end up being 18-hour shifts, convenience retailers no doubt appreciate what it feels like to be lacking in energy.
For a number of years, high-caffeine energy drinks were the go-to beverage for anyone looking for a quick pick-me-up, from overworked retailers to school kids in search of a new rush.
However, in the past 12 months the category has been targeted by government with a public consultation proposing retailers stop selling drinks containing more than 150mg of caffeine per litre to under-18s. The government is now considering how to act on results of the consultation, which ended last July.
Traditional sports and energy drinks have also had to contend with a burst in coffee-based drinks which deliver their own caffeinated boost, and the rise of health-focused beverages that claim to offer added nutritional benefits.
However, for Amy Burgess, senior trade communications manager at Coca-Cola European Partners (CCEP), the trends have only served to super-charge sales growth for retailers.
"The energy category has exploded and is now worth more than £1bn in total GB, making it one of the fastest-growing segments in the non-alcoholic ready-to-drink industry (AC Nielsen Value MAT to 29 December 2018)," she reveals.
Robert Kirkwood, owner of two Premier stores in Fife, is equally positive about high-energy soft drinks, and says they are still one of his top-selling lines.
"I give energy drinks quite a hefty amount of space as they're very popular," he says.
Sales of stimulants, in particular, are full of beans. The sub-category, which includes the likes of Red Bull, is worth £461.5m in sales value and grew by 14.1% last year (IRI Britvic Convenience 52 we 30 December 2018).
Robert says Red Bull is leading the way in sports and energy drink sales. "I have four different Red Bull sizes and price points at £1.25, £1.29, £1.59 and £1.99 – they all go really well," Robert explains.
A 79p isotonic drink from Booker's Euro Shopper own label is also up there among his best-sellers.
"Premier is putting on deals, such as two for £1.50, or price reductions such as Monster from £1.35 to £1.09, and that really helps sales. I make a healthy 30% margin on some lines. It's all about buying shrewdly."
Another retailer having to be shrewd with their energy drinks range is Ralph Patel, owner of The Look-In in Woodmansterne, Surrey, as more and more lines jostle for his shelf space.
He believes the category is in good shape. "I think the energy drinks sector has grown in the past year and is being driven by the popularity of brands such as Monster and Red Bull.
"I would say Red Bull is still the top seller, but I have noticed a lot more copycat products trying to take a share of the market. When a category is doing well you are always going to get own label or emerging brands trying to jump on the bandwagon."
With this in mind, Russell Goldman, buying director at wholesaler Rayburn Trading, advises convenience store owners to make sure they consider which sports and energy drinks are must-stocks for their store.
He says: "Retailers should understand that they can't stock everything. It's about finding the balance between sticking with those reliable brands while also experimenting with new and innovative ones.
"Sometimes changing too much can have a negative impact on a business as it's important to make small changes over time and see their effect. Look at the products doing the least amount of sales and replace these with new lines."
Matt Gouldsmith, channel director for wholesale at Lucozade Ribena Suntory (LRS), agrees that retailers should take a balanced approach to their sports and energy offer.
"The category is large and fast-moving," he says, "so retailers should stock up on the leading drinks in each segment to ensure they can always offer their consumers what they're looking for. They should also make the most of the key innovations from these established brands to keep the category fresh and exciting and to ensure ongoing sales success."
Iced coffee that hits the spot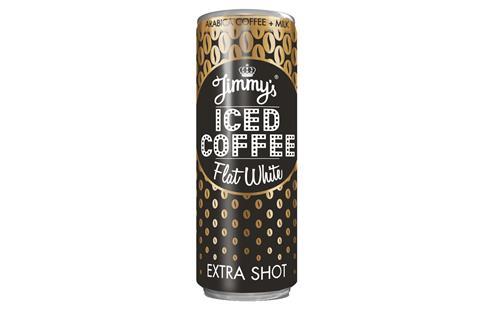 The flat white is said to be the fastest growing over-the-counter coffee order in the UK (Cafe Culture 2018) so it's no suprise it's now available in an iced version for the c-store sector.
Jimmy's Iced Coffee has been quick off the blocks with an extention to its iced coffee drinks range.
The company says that given sales of flat white increased by 11% in the past year (Kantar Worldpanel, September 2018), creating an iced version in a can was a natural move.
The Dorset company's new extra shot 250ml can debuts this summer in an eye-catching black and gold pack design and with an rrp of £1.85.
The iced coffee is made using five ingredients including: ethically sourced Arabica beans; semi-skimmed milk; and unrefined demerara (4.9g total sugars per 100ml).
Commenting on the launch, Jimmy's co-founder Jim Cregan says: "Our tasting development started with us adding an espresso to our current original. So, to now have the recipe refined into a super smooth iced flat white, with an extra kick, in recyclable packaging, is really exciting."
Jimmy's co-founder Suze Cregan adds: "We knew we wanted to launch a stronger iced coffee. With so many people still wanting a daily energy boost, but increasingly moving away from sugar-filled energy drinks, this was a prime time for a us to create an extra shot.
"Combine this with traceable ingredients and 100% recyclable packaging, we're excited to launch the flat white with all the credentials our drinkers care about."
Sweet on lower sugar
Among the new contenders in sports and energy drinks is a raft of lines containing reduced sugar or no sugar at all.
Tony Lipscombe, of Premier Neyland Supermarket in Milford Haven, argues that this change in direction, triggered in part by last year's Soft Drinks Industry Levy, is affecting which new sports and energy drinks are being launched by the market leaders.
He says: "Most of the big boys in the market are focusing on zero sugar. Most of the innovation in the energy drinks category is all sugar-free now. The rate of new launches definitely isn't the same in the full-sugar market."
Adrian Troy, marketing director at Barr Soft Drinks, argues that sugar is still an important component in energy delivery for many consumers, but admits that a growing number are demanding an alternative. "It's estimated that low- or zero-sugar energy will be worth £200m in five years (IRI Marketplace, Value Sales, Low Calorie 500ml Big Can Energy Drinks, MAT to 7 October 2018, GB Convenience)," he says.
Goldman at Rayburn Trading thinks the strategy for introducing more low- or no-sugar options into the sports and energy category is being driven by the need to address growing consumer concern about cutting down on sugar.
"The introduction of government legislation last year has put even more pressure on retailers to rethink the stock they purchase," he asserts. "Retailers should seek out skus that advertise 'no sweeteners' and 'low sugar content' such as the new Lucozade Sport Fruit Punch and the Monster Zero range," he says.
Barrie Seymour, of Londis Littletown in West Yorkshire, has been particularly impressed with the way Lucozade has updated its sugar levy-exempt energy range.
"Lucozade has recently rebranded its range with great success," he asserts. "The colours are a lot brighter and you can really pick the bottles out on the shelf – a bit like a player who is wearing a fluorescent shirt on a football pitch!"
Gouldsmith points out that it makes sense for brands to invest in their low-sugar drinks portfolio, now that the industry has adapted to the introduction of the sugar tax.
He explains: "In the months following the introduction of the Soft Drinks Industry Levy, shoppers' spending on zero- and low-sugar drinks has increased by 33% and 29% respectively (Take Home Soft Drinks Spend, Value – 20 w/e Aug 18 vs 20 w/e March 2018) showing just how important this segment of the market is.
"This is mirrored at the other end of the market with a decline in high-sugar drinks (those with more than 8g sugar per 100ml), which were down by 8% in the months following the sugar levy (Take Home Soft Drinks Spend, Value, 20 w/e August 2018 vs 20 w/e Mar 2018 ). These patterns of behaviour illustrate the relevance of a low- and no-sugar soft drinks range within sports and energy as consumers increasingly make healthier choices."
Simon Gray, founder and managing director of Boost Drinks, says that c-store retailers who seek out sports and energy drinks that stand out for their low sugar levels are also more likely to find favour with younger consumers.
"Here at Boost we know that among millennials low sugar content is the most important factor when choosing a soft drink," Gray says, "with 86% believing sugar is bad for their health (Young Blood - 2,001 respondents, ages 18-30 (626 males/1,381 females). It is important that independent retailers with a younger demographic of shopper keep this in mind when choosing how much stock should be lower sugar options.
"Post the levy it was found that almost half of consumers support the government's move to stricter rules, such as the sugar levy, around soft drinks (Young Blood - 2,001 respondents, ages 18-30 (626 males/1,381 females)," Gray adds, "so any convenience store should be considering this statistic and be stocking more and more choice of lower sugar drinks in order to cater for customers with this view.
"We would recommend that retailers dedicate a lot of their chiller space to low sugar soft drinks in good view near the entrance of the shop."
Burgess agrees that younger consumers are leading the way when it comes to sugar reduction.
She says: "Millennials are driving the rise in flavour options but are also increasingly health conscious, setting the trend across all soft drinks sectors that we expect will continue in the next few years.
"As more consumers look to balance their lifestyles, the demand for more low-sugar options rises."
Boost Drinks is summer ready with on-pack campaign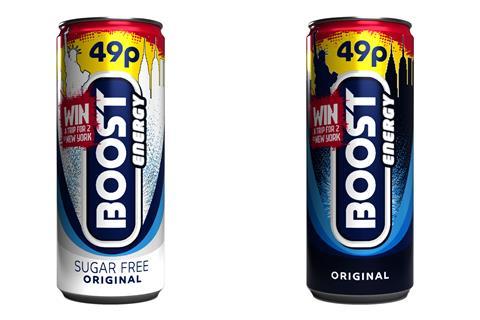 Boost Drinks is aiming to help independent retailers maximise soft drink sales this summer with an on-pack promotion across its 250ml Original Energy and Original Sugar-Free pricemarked cans.
Running until 20 October, the promotion offers consumers the chance to win a trip for two to New York City, along with daily and weekly giveaways including Bose wireless speakers and shopping vouchers.
To enter, shoppers can scan the code from their promotional can via Snapchat or online to find out if they are a winner.
Boost will be supporting the summer-long competition with a New York-themed marketing campaign, which kicked off last month and includes sampling to more than 380,000 UK consumers and advertising across national TV, digital and outdoor media platforms.
Out-of-home billboards will highlight the promotion in Manchester, Birmingham and Glasgow, while adverts will run across YouTube and air during popular TV shows such as Love Island, First Dates and Family Guy.
Accompanying POS is also being sent out to thousands of retailers nationwide.
The team at Boost drinks will also be making trips to wholesalers to raise awareness of the promotion. They will visit dressed as New York City tourists and be helping retailers to stock their vans with product.
Boost founder and managing director Simon Gray says: "Here at Boost, we love local. That means supporting independent retailers is at the heart of our business. When designing this on-pack promotion we wanted to ensure we were offering an amazing prize, as well as generating excitement through our marketing activities. We're doing everything we can to spread the word about our on-pack promotion, encouraging consumers to visit their local independent stores and get their hands on the promotional cans."
Available now via the wholesale channel, the promotional cans are pricemarked
Focus on formats
As well as stocking sports and energy drinks with the right balance of sugar, retailers must ensure they have all the right formats in stock.
For many this means focusing on larger impulse options, as Troy explains: "The energy category is one of the biggest categories within impulse soft drinks, worth £668m (IRI Marketplace, Value Sales, MAT to 30 December 2018, GB Convenience). Within this, big can formats are driving growth at 20% with flavoured variants playing a significant role in the success of the category (IRI Marketplace, Value Sales, 500ml Big Can Energy Drinks, MAT to 7 October 2018, GB Convenience)."
Barrie agrees that larger cans are in growth and says they provide him with a strong foundation for his main soft drinks fixture.
He says: "Big cans sell well. We get really good margins across our energy and sports range and shift a lot of volume during the summer.
"All of our range is kept in the fridge, which is really good for sales because most people want their drinks to be chilled."
In fact, Barrie's range has been in such high demand this spring that he has had to increase the amount of stock he gets from his main supplier.
"We've increased the number of deliveries we get from Londis to five a week," he explains. "We don't have a huge warehouse so it pays for us to stock up regularly at this time of year. We may even increase it to six if we need to.
"Because sales have been so good, I tried to order 10 cases of Lucozade's new watermelon flavour, but they cut me back to two cases," Barrie adds. "It's probably because it will only be around for a limited time."
Gray thinks that much of the demand for energy drinks in stores like Barrie's are driven by impulse sales. He says the vast majority of consumers in the convenience channel are on this shopping mission.
"We know that 98% of energy drinks are bought on impulse (IRI Marketplace Data Symbols and Independents 52 weeks unit sales to 30 December 2018), because consumers want chilled and on-the-go availability when they are popping into their local convenience store," Gray asserts.
Retailer Dee Sedani, who owns a village One Stop store in Etwall, Derbyshire, stocks all of his energy drinks in impulse cans.
He explains: "We stopped doing multipacks a while back and instead focused on the singles. The only large pack we have is Monster because it is part of our range that we get through One Stop.
"The single cans are the format of choice for most people and at the end of the day it's a product that offers shoppers convenience. They are happy to pay whatever they have to for that."
Tenzing mixes raspberry and yuzu for latest drink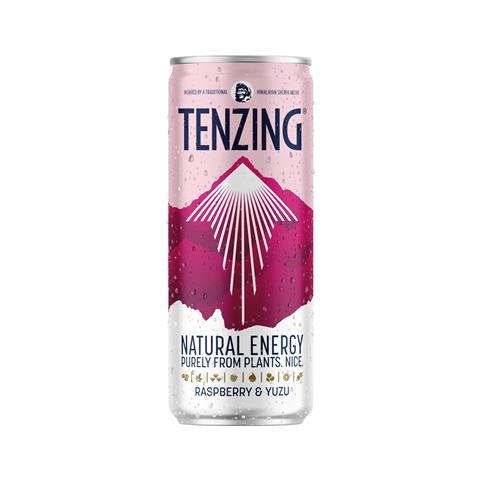 Natural energy drink brand Tenzing has created a new blend made using a mix of raspberry and Japanese citrus fruit yuzu.
Featuring a triple hit of natural caffeine, vitamin C and electrolytes, the new addition is being sold in multiples and will launch into c-stores and independents later this year.
Tenzing founder Huib Van Bockel says the new flavour contains more vitamin C than the original blend.
He adds: "We've created a new flavour profile for people – one that is not synthetically sweet, but light and refreshing. Three years on, Tenzing is the fastest growing brand in the energy market (Nielsen, 2019), so we felt now was the right time to launch a new blend."
The drink is sold in 250ml cans, rrp £1.29.
Pricing pointers
Gray points out that pricemarked drinks are a good option for stores that attract customers looking for an easy and speedy energy boost. "Retailers should consider stocking energy drinks in a PMP format," he says, "as it provides the customer with all the information they need quickly and efficiently."
Dee likes to keep a mix of pricemarked and regular sports and energy drinks in stock, offering his customers a good amount of choice.
"We don't really favour one format over another," he says. "Most of our promotions are tied in with One Stop's national campaigns so we tend to stick with those rather going for the multibuys."
Barrie's approach to his sports and energy drinks offer is equally direct, focusing on margins rather than introducing lots of cut-price deals.
He explains: "I've never been a big fan of pricemarked packs during the summer, because this is the time when you want to make the most amount of margin you can from your range.
"I know quite a few of the brands are doing the 'two for £2' promotions at the moment so it will be interesting to see how these deals perform."
Unrooted taps into healthy energy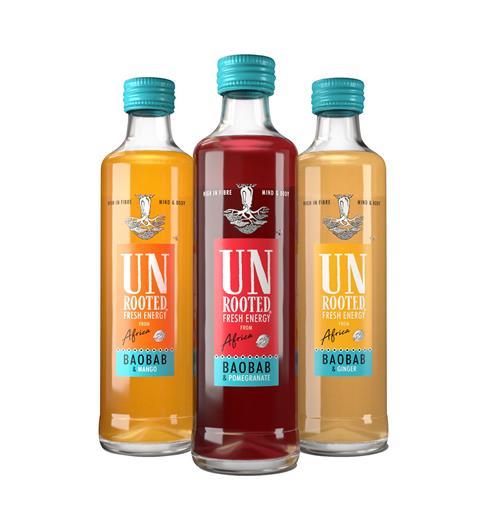 Unrooted, claimed to be the first premium, healthy energy drink made using the baobab plant, is now available to convenience retailers via the wholesale channel.
The range is high in fibre and designed to offer consumers an alternative to high sugar, caffeinated energy drinks currently on the market.
Each bottle of Unrooted contains 10g of handpicked baobab that is blended with all-natural ingredients including vitamin C, antioxidants and micro-nutrients.
Baobab fruit comes from the African Baobab tree and is said to contain prebiotic fibre and vitamin C.
Three variants are available: baobab & mango; baobab & pomegranate; and baobab & ginger,
Unrooted founder Nathan Clemes says: "Our natural energy drink offers retailers a premium and healthy alternative to sugary and caffeine-loaded drinks that are slowly going out of fashion. We look forward to seeing our product on shelf up and down the country."
Sold in 250ml bottles, the Unrooted energy drinks range carries an rrp of £3.50.
Legislation looms
While price is one area retailers have at least some control over, the packaging their sports and energy drinks are sold in is something they cannot change. With the nation set on reducing plastic, retailers are keen for manufacturers to find a solution.
Barrie says: "I think a lot of brands will have to get rid of all the sports cap bottles because kids just chuck them about and we find them all over the place, so they aren't the best things for the environment."
Dee is also in favour of more being done to encourage a change to help shoppers and the industry break their reliance on plastic.
He says: "I wish they [the government] would get on with introducing more rules on plastic usage. I think that would make it easier for everyone to know where they stand."
With the threat of tougher rules, from age-restictions to plastic and the prospect of a UK-wide Deposit Return Scheme now a reality, there is the prospect for a lot of future change within the category.
However, Barrie remains optimistic about energy drink sales moving forward. "I think the category is going to be okay," he says, "although I still don't think people can decide whether they are good or bad for you."
The government may well be included in this number yet to make its mind up, as it is yet to make its decision on selling energy drinks to children. Anticipating legislation, this time last year the country's biggest grocers all chose to restrict the sale of the products to kids, and many independent retailers are doing the same.
Dee believes that it is unlikely that a full-scale ban on energy drinks to under-18s will be introduced this year, though. "The government has bigger things to sort out at the moment so I don't think a ban on energy drinks is at the top of its list," he says.
He's not sure legislation would be a good move at this point in time, either. "We don't want to turn into a nanny state and introduce so many rules not long after the sugar tax. I think a lot of the time these policies that affect retailers are drafted to make political gains and win over votes."
Barrie agrees that state intervention targeting the soft drinks industry is unlikely: "It's been a long time since the government floated the idea of a ban on energy drinks sales to children and nothing has happened. Most retailers are sensible about the voluntary bans they have in their stores anyway," he says.
"I tell my team not to sell energy drinks to young kids who are aged 10, 11 or 12, but I think 14 is about the right age for someone to buy an energy drink. It's just about using your common sense."
Dee takes a similar approach to the sale of high-caffeine and sugary drinks sold in his store: "We still sell them to people, but we are just more mindful when we are selling the drinks to kids," he adds.
With so much uncertainty about future legislation, Gray is confident that the sports and energy drinks category and the convenience channel will be able to adapt to whatever comes their way.
"Every day there is talk of possible taxes on food and drinks products," he says. "We will do our best to ensure we continue to support our retailers as best we can if any more restrictions affect the industry."
The soft drinks industry may have faced more than its fair share of challenges in recent years – with more to come – but for now it seems that sports and energy drinks are most definitely buzzing.