Barr Soft Drinks has unveiled an updated pack design for Snapple to highlight the US drinks brand's New York City roots.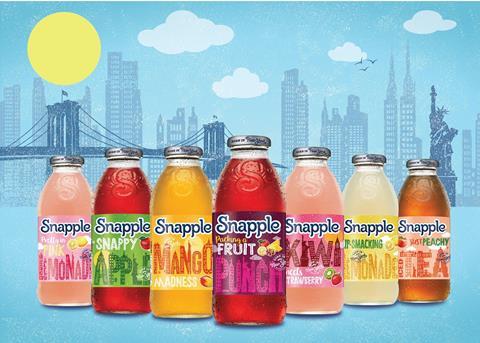 The revamped labels feature skyscraper-style lettering and reworked names for each of the seven variants included in the range.
"Snapple consumers lead busy lives in busy cities and, when they need a flavour hit, the brand offers a unique, tasty, sweet treat to refresh and keep them going ," said Adrian Troy, marketing director at Barr Soft Drinks.
"This year is set to be our biggest year yet for the brand and with this new design, we're highlighting all the best things about Snapple, including the quirky, bold and fun personality that consumers know and love, and packaging that's sure to attract shoppers throughout the summer and beyond."
Made with no artificial sweeteners, all products in the Snapple range are exempt from the Soft Drinks Industry Levy and come in 473ml glass bottles (rrp £1.50 each).
The line-up includes four fruit juices: Kiwi Meets Strawberry, Snappy Apple, Mango Madness and Packing a Fruit Punch, as well as two lemonades: Lip-Smacking Lemonade, Pretty in Pink Lemonade, and one iced tea: Just Peachy.
Bar Soft Drinks is advicing retailers to make use of its range of POS materials to attract shoppers and drive growth from Snapple during the summer months.