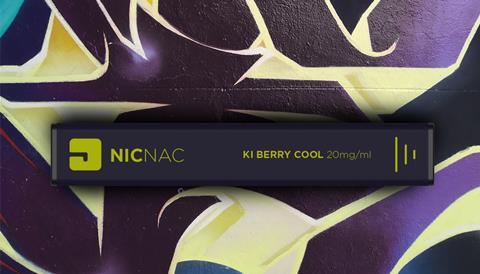 Jac Vapour's new disposable e-cigarette, NICNAC, is now exclusively available at Booker for three months.
JAC Vapour state the disposable e-cigarette category has become increasingly popular in the convenience sector, and predicts the NICNAC will do well in this space.
With over 300 puffs per stick, they say the NICNAC will do well for social smokers or those who want to make the transition to vaping without the hassle of changing coils or e-liquid.
Sales director Rob Patrick said: "The NICNAC is a fantastic product, a super sleek vape bar developed using all of our experience over the past 11 years in this category. The flavour and vapour production are incredible, and it has been created for simplicity of use, at a very competitive pricepoint of £3.49 RRP. We are delighted to offer Booker exclusivity for a period on this product and we are sure it will prove to be a huge success across their estate."
Current available flavours are sunleaf tobacco, absolute menthol and Kiberry Cool, with more flavours to come later in the year.
NICNAC has an RRP OF £3.49, with products packed in sleeves of 10 bars to a case.