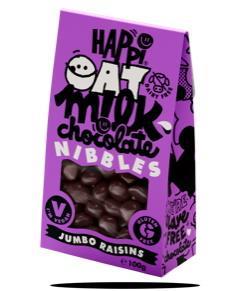 Happi Free From, has launched a range of oat milk chocolate snacks in response to the growing demand for vegan and allergy-friendly sweet treats that can be enjoyed on-the-go.

Happi Oat M!lk Chocolate Nibbles are available in 100g bags (rrp £3-£3.50). The bite-size chocolate-coated treats are available in three variants: Jumbo Raisins, Almonds and Vegan Honeycomb, all of which are dairy-free and gluten-free.

"Our Happi Free From Chocolate is gaining a strong and loyal following so extending the product range into the snack category makes perfect sense," said Gavin Cox, founder of Happi. "The new Nibbles range offers something for everyone; catering for those who enjoy dried fruit or nuts, or perhaps something a bit sweeter like honeycomb. They are a really delicious treat."

For wholesale enquiries visit happiwholesale.com.