Mars Wrigley UK is reintroducing its Galaxy Truffle treat in standalone boxes for gifting during this year's Christmas season.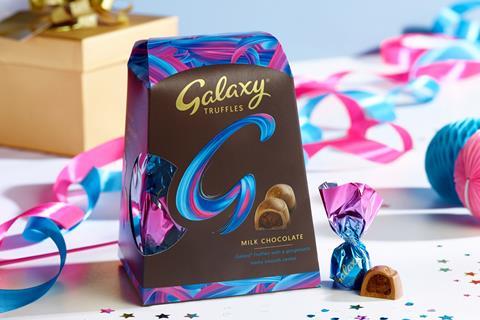 Once considered a favourite in the brand's mix of Celebration chocolates, Galaxy Truffles are now back on the market with a refreshed look and contemporary pack design.
Available to convenience stores in a 206g format (rrp £4.99), the individually foil wrapped chocolates feature a rich and velvety centre and are designed to offer consumers a more premium confectionery option for the festive period.
Each of the truffles come encased in Galaxy milk chocolate and the nationwide product rollout will be supported by a £1m digital campaign this November. Convenience retailers across the UK can start stocking up on boxes of Galaxy Truffles now.
Sarah Mellor, Galaxy brand director, said: "We are extremely excited to be launching Galaxy Truffles in the UK this year and to be entering the all year-round gifting market for the first time as a brand.
"For so many people, Galaxy Truffles were part of a much-loved festive tradition and we are thrilled to be answering the undeniable demand, reinventing this favourite, now available all year round."