Mars Wrigley is covering its Skittles sweets with yogurt to create a new Dips sub-brand - the company's biggest fruit confectionery launch of 2019.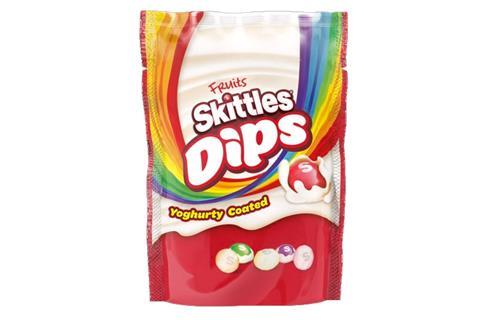 The sweets combine the texture of Skittles with a new yoghurt coating and are designed to appeal to a diverse range of shoppers.
Mars Wrigley is positioning Skittles Dips as a more premium sweet than Skittles Chewies, which the brand first launched in the convenience channel last year. Dips is also set to tap into the yoghurt-coated snacking space.
Alyona Fedorchenko, marketing director at Mars Wrigley, commented: "Disrupting the predictable is at the heart of the Skittles brand. In keeping with that ethos and following the successful launch of Skittles Chewies last year, where we removed the Skittles shell for a softer texture, we are disrupting the category even further by launching Skittles Dips.By combining the balance of sweet, fruity flavours with tangy yoghurt, fans of Skittles will enjoy something completely new, and totally indulgent from the brand.
"By tapping into the growing trend for yoghurt-coated treats, we want to provide a more premium, indulgent experience for the consumer and give retailers another great opportunity to grow the category."
Available now, Skittles Dips comes in four formats: 35g singles, 95g bags (£1 PMP), 115g pouches and 150g pouches.