Funkin Cocktails has extended its range of RTD cocktails in a can with the addition of Nitro Piña Colada.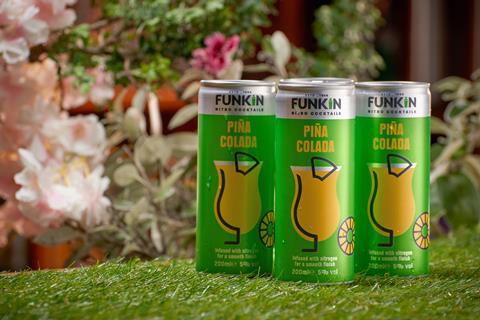 The 5% ABV cocktail is blend of coconut milk, pineapple juice and white rum and joins four other serves in the range launched last summer: Espresso Martini; Passion Fruit Martini; Amaretto Sour; and Pink Gin Fizz.
The launch is designed to capitalise on the growth of bar-quality cocktails in the ready-to-drink premium cans market and the growing popularity of rum and rum cocktails. In the take-home market, ready-to-drink cocktail cans are worth £303m and growing at 33%, faster than beer, wine and cider (Nielsen Scantrack 52 w/e December 2018).
The Nitro canned cocktails (rrp £2.29) claim to deliver a bar-quality serve in a convenient format, presenting a perfect serve with a creamy foam head and a smooth, velvety mouthfeel which is normally achieved through shaking a cocktail.
Funkin Cocktails marketing director Ben Anderson said: "With the growth of rum and the resurgence in popularity of Piña Colada, this latest innovation will be a great addition to the range, allowing consumers to enjoy this popular cocktail wherever they choose.
"Funkin Nitro canned cocktails are the perfect solution, enabling consumers to enjoy a taste and experience that is true to the cocktail anytime, anywhere.
"Containing real fruit, powered by nitro innovation and with bold, colourful packaging, Funkin RTD canned cocktails are perfect to capture the take-home cocktail opportunity."
Cases contain 12x200ml cans, with a 12-month shelf life.