Fourpure Brewing Co. has joined forces with Jameson Irish Whiskey to create a limited-edition barrel-aged Irish coffee imperial stout, called Nightcap.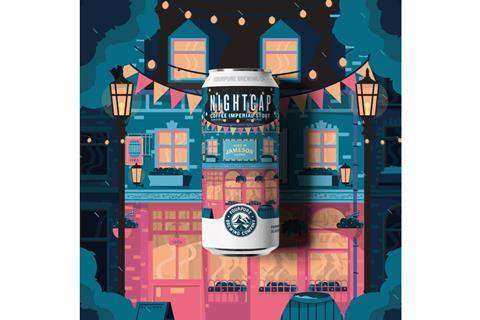 With an abv of 9% and an rrp of £5, the new stout follows the successful launch of the limited-edition Jameson caskmates Fourpure edition whiskey this September.
The Nightcap stout's branding and beer style pays homage to Cork's surrounding countryside and the beer contains six different malts, with hints of vanilla and the roasted flavours of coffee and cocoa. The result of the barrel-ageing process also provides a rounded oak finish and a warm taste of whiskey.
Adrian Lugg, head of marketing at Fourpure Brewing Co., said: 'Team Jameson are world-conquerors for a reason, they know their stuff. Combining their quality and expertise with our recipes and brewing skills is a lot of fun, and if I may say, makes for a cracking beer. We're very proud of Nightcap. It's another example of our continued innovation, pushing flavour boundaries and giving customers something extraordinary outside our core range of beers. And it tastes amazing.'
The Nightcap stout will be made available to convenience stores and independents from Friday 22 November.