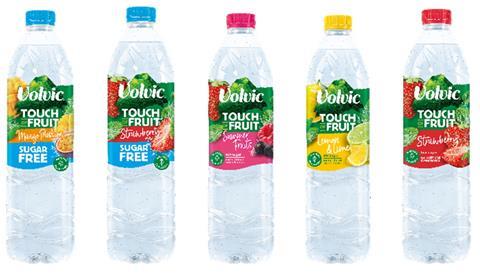 Danone Waters UK & Ireland has invested in a Volvic Touch of Fruit brand relaunch following significant growth in the flavoured water category, which recently saw a 64% increase in value sales (IRI Market Place, Total Coverage L4W Value Sales, 18/04/21).
With health and wellness a key priority for consumers, the relaunch positions Touch of Fruit as a delicious way to keep hydrated, highlighting the brand's nutritional claims, specifically it being low in sugar or sugar free, and using only natural flavours. As consumers look to make more mindful food and drink choices, flavoured water has a key role to play in offering a refreshing alternative, which does not compromise on taste. While the recipe remains unchanged, the new look provides greater differentiation between the Original and Sugar Free range, enabling shoppers to choose the product which best suits their needs and drinking occasion.
The packaging material itself will remain as the current 100% recyclable bottle, in line with the brand's wider sustainability commitments, which most recently include its carbon neutral certification. These credentials will be more more clearly communicated on pack with the inclusion of the B Corp logo demonstrating Volvic's commitment as a force for good within the industry.
The new packaging will be rolling out nationwide across all Volvic Touch of Fruit formats between now and August. This summer will also see the launch of a consumer campaign aimed at changing perceptions consumers have around Volvic Touch of Fruit.
The announcement follows the recent launch of Volvic Touch of Fruit's first added vitamin flavour, Pineapple & Orange Vitality.
Elen Gyulnazaryan, senior brand manager at Danone Waters UK & Ireland said: "We're so excited to be relaunching Volvic Touch of Fruit, bringing our refreshing and tasty flavours to consumers with a new bolder and more contemporary look, reflective of the brand's vibrant personality. As consumers' needs continue to broaden when it comes to their drink choices, we're seeing a real opportunity for retailers in the flavoured water category as it caters to consumer's changing tastes. As the #1 flavoured water brand in the UK, we're committed to continually innovating to bring the most refreshing and tasty options to our consumers. As part of this, we conducted rigorous consumer testing for the relaunch, which clearly established a stronger purchase intent with the new design."