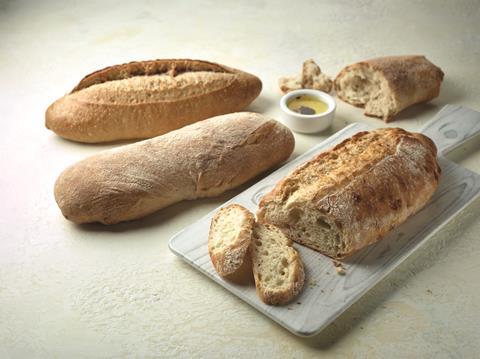 Country Choice has launched three new bread products – a 315g hand-finished Sourdough Bloomer, a 310g West Country Farmhouse Cheddar Cheese Bloomer, and a hand-stretched 285g Ciabatta loaf.
The Sourdough Bloomer is made from a mother dough starter and goes through a slow proving process which produces a delicate sour flavour and a soft crumb texture, whilst the West Country Farmhouse Cheddar Cheese Bloomer has a soft, aerated, flavoursome crumb and a natural burst in its crust which makes each loaf unique. Both products come in cases of 12.
The ready to bake Ciabatta Loaf comes in a case size of 13 and is made using Italian extra virgin olive oil. The loaf is hand stretched, turned, and then shaped into a slipper shape before being baked on a stone surface. The result is a ciabatta with a waxy crumb and crisp crust.
All three speciality breads have a shelf life of one day once baked.