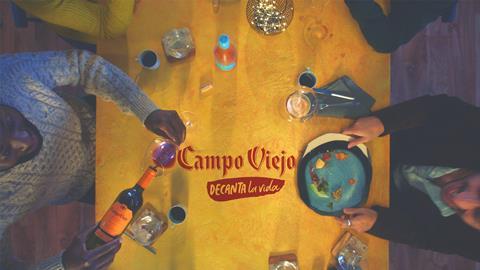 Campo Viejo has returned to screens with its 'Decanta La Vida' campaign.
Running now until June on Video on Demand, social media and OOH, the campaign also includes a media partnership with News UK, that includes Virgin Radio, to encourage consumers to share a bottle with friends and family over the summer season at various events.
The campaign sees six friends through their 20s, 30s and 40s gathering around a table to enjoy a meal and a bottle of Campo Viejo. The campaign aims to reach 75% of 25-54 year old UK wine drinkers.
Lucy Bearman, wine portfolio director for Pernod Ricard UK, said: "Campo Viejo is one of the world's most admired brands whilst Spanish wine is amongst the top 10 Countries of Origin and holds an 8.4% market value share. Passion is at the heart of our brand and we're delighted to once again inspire consumers to live life spontaneously, passionately, more expressively: learning to enjoy the small things in life, the simpler, more intimate moments."