Toilet hygiene brand Bloo is set to launch Pro Nature: the company's first range of toilet cleaning rim-blocks made with 100% recycled baskets.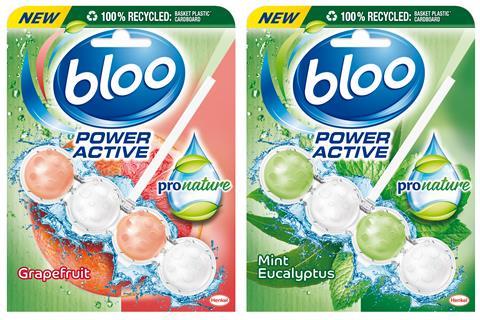 In line with parent company Henkel's plans to make its consumer packaging reusable, recyclable or compostable by 2030, the eco-friendly range is designed to reduce the brand's carbon footprint.
The Pro Nature line-up is also rolling into stores to mark World Toilet Day (19 November) and comes in two variants: mint eucalyptus, with scents of pine and honey; and grapefruit, featuring the aroma of tropical citrus (rrp £2.50 each).
As part of its sustainability commitments, Bloo has also commissioned futurist James Wallman to create a report on the toilet of the future. The report predicts that by 2050 toilets will be powered by renewable energy and offer health check MOTs.
Edeje Onwude, senior brand manager for Bloo, commented: "Recent research showed that 33% of consumers have altered their purchasing decisions in the last 12 months to become more eco-friendly (Mintel, UK Report, 2019.
"The launch of Pro Nature is well-timed to respond to this growing trend and change in consumer behaviour. Following a reduction in the number of single-use plastic products, customers can expect further developments in packaging across the Bloo range."
The Pro Nature line-up can last up to 240 flushes before being changed and claims to tackle odours and limescale to create a dirt-free toilet bowl.