Bestway Wholesale has introduced 10 chilled ready meals to it own label best-one range as it seeks to make more of the growing category.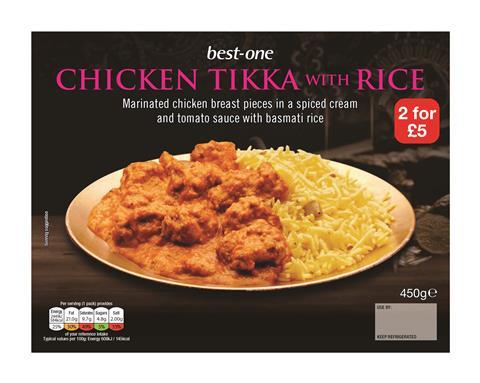 With 45% of shoppers now regularly purchasing ready meals in convenience stores, the range includes dishes from the most popular Traditional, Italian, Indian and Chinese sectors, with meals such as Sausage and Mash, Beef Lasagna, Chicken Tikka and Sweet and Sour Chicken.
All 450g meals, which have an rrp of £2.99 and are price-marked with an offer of '2 for £5,' can be oven or microwave cooked and are suitable for freezing.
The range has also been designed with the need to combat wastage in mind and all products boast "a longer shelf life compared to the average ready meal," according to Bestway.
The move reduces waste from approximately 5-15% on average to 1-2% for the meals in the best-one range, it said.
Bestway director of trading for the chilled category Steve Carter said: "Our range of ready meals has been in development since November 2018 and we've prepared these dishes using 'steam fresh cooking' - this means the products are cooked under high pressure in a steam cooker.
"Prior to cooking, all chicken is marinated for at least 24 hours, the beef is slow cooked, dumplings are made by hand and oven baked, the mash is prepared fresh for each and every production batch, and all spices are blended in-house."
Bestway Wholesale had planned to introduce a range of chilled ready meals for a while and since acquiring Bestway Retail (which includes Bargain Booze, Wine Rack, Select Convenience and Central) and expanding the size of its Chilled Distribution Centre, it was now possible for the company to do so, Carter added.
"In addition, we've also launched a best-one range of chilled juices, available in four flavours – Orange, Apple, Tropical and Cranberry.
"We did previously have juices, but these were ambient and not chilled. These provide consumers with one of their five a day and we've ensured these can be offered at a competitive price, with an ongoing price marked offer of 2 for £2."