Puffed pea snack brand Bepps is adding a salt & vinegar variant to its range alongside reformulated flavour profiles and new look packaging.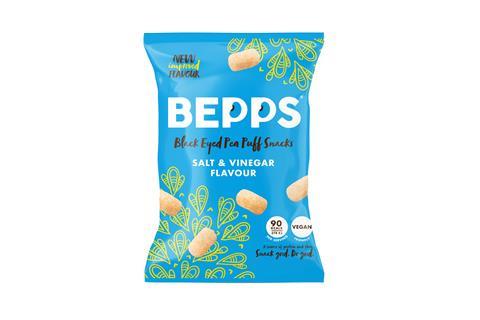 The new addition will launch into convenience stores nationwide from 11 November. Like other Bepps lines, the salt & vinegar flavour is vegan, gluten free and made using natural ingredients with no artificial additives or preservatives.
A reformulated puff, made using 100% peas and fava beans,is also rolling out across the entire Bepps portfolio this month. The updated products are now richer in vitamin A and calcium and contain less fat, fewer calories and added protein and fibre.
In addition, the Bepps range has also been revamped with a new front of pack design, celebrating the West African heritage of the brand to increase standout on shelf.
Eve Yankah, founder of Bepps, commented: "We're really excited to be launching the newly formulated range and can't wait to see it hitting the shelves later this month. The new salt & vinegar flavour packs a real punch, and we think this fresh twist on a flavour favourite will help the brand appeal to a more mainstream audience.
"Black eyed peas will always be our 'hero' ingredient, but as our product portfolio grows, you will see us mixing in other grains, peas and pulses into our impulse snack range starting with the puffs which now include fava beans."
All Bepps products are VAT-exempt which means its 22g and 70g bags carry an rrp of 89p and £1.79 respectively.