British Summer Fruits, the industry body representing 95% of all British grown berries purchased by food outlets in the UK, is encouraging retailers to capitilise on this year's crop of strawberries.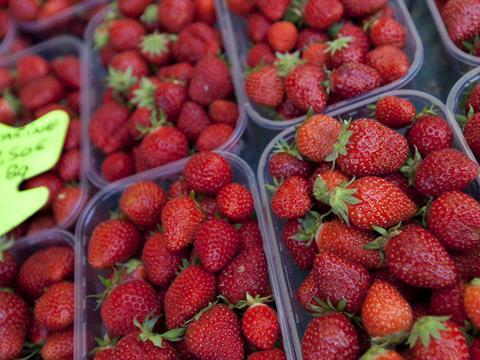 The fruits are now being grown in opitimal conditions and are available in greater numbers this summer following the heatwave of last year. British Summer Fruits claims that the berries are now at their peak ripeness.
Strawberries are the most popular berry in the UK, with more than 133,000 tonnes of the fruit being sold across the country in the past year.
Shoppers also spent more than £659m on the classically British berry during this period - an increase of 7% on the previous year.
Furthermore, Strawberries now have a 25% market share of all fruit grown in the UK which has pushed the value of the berry industry to more than £1.4bn (Kantar data across 52 weeks, week ending 14 July 2019).
Nicholas Marston, chairman of British Summer Fruits, said: "Now is the time for people to buy and enjoy British strawberries. The fruit is now at its very best and can be bought at super values from all retailers and shops."
Dr Emma Derbyshire, public health nutritionist for British Summer Fruits, added: "Berries are a fantastic healthy snack that offer numerous health benefits. Not only is the whole strawberry rich in antioxidants, but the red fleshy part is also abundant in Vitamin C. In fact, eating just nine strawberries (108g) can provide all of your recommended daily vitamin C intake."